OutDoor enjoys modest gains
Is it a new chapter for OutDoor after the years of euphoria? Messe Friedrichshafen, organizer of the event that took place from July 12 to 15, talks about an increase but only of about 200 people. The fair attracted 21,730 visitors for this edition versus 21,520 last year. Non-German visitors accounted for 67% of attendance, although German-speaking visitors were out in force on the shores of Lake Constance.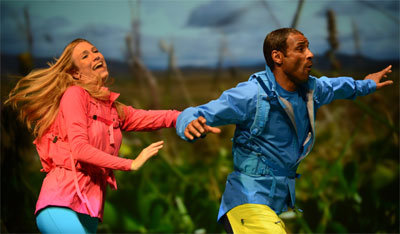 The OutDoor showcases fashion trends during runway shows. Photo, Messe Friedrichshafen
"The first two days, the fair was packed. Here, the focus is still on Germany and the Alpine region as a whole," said Stefan Wahlén, new managing director of Patagonia Europe. The French were again inconspicous, as is often the case, probably because of the show location, difficult accessibility, and the dates always being around July 14, Bastille Day. "I think there are 5 to 10 times more buyers at the Ispo than at OutDoor. But it is still a very high profile event," said one industry expert.
"All the major accounts came. The big independent names from France were perhaps less present,"said Cedric Charbin, head of the French market for Merrell. Actually, the exhibitors we spoke with question the show's length, often saying that three days is sufficient. French industry players said that given the current season, the dates of Sport Achat, usually criticized for being in September, would be more suitable in such difficult times. "Retailers continue to believe in the OutDoor segment but they must now be more demanding about the products and some are more cautious about quantities," said Amar Quartier, France managing director of Jack Wolfskin.
The outdoor sports sector, which brings in 10 billion euro in sales for Europe (according to the European Outdoor Group), is increasing promotional activities this year with mountain biking, hiking or even yoga. "All manufacturers are trying to get a piece of the outdoor cake. Embarking on new methods is a growth driver," said Eric Pansier of The North Face.
Copyright © 2023 FashionNetwork.com All rights reserved.