Olivier Cantet: "With our boardshorts, I have no complexes when it comes to Nike"
Rip Curl has announced a reorganization of its European business and an intended refocusing of its activity on the sport of surfing. Olivier Cantet, CEO of the group, explains the factors that led the management team and shareholders to make this decision, and its rebound strategy.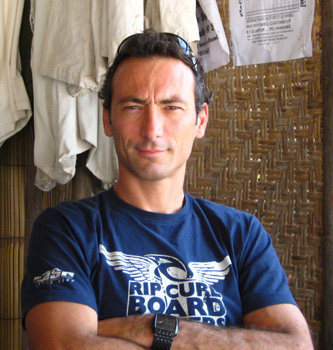 Olivier Cantet, CEO of Rip Curl / Photo: Rip Curl
Fashionmag.com: You announced last week a plan for dealing with economic redundancies in Europe for 29 positions related to the headquarters at Hossegor (is a commune in the Landes department in Aquitaine in south-western France) and 5 in the logistical base. What are the reasons for this decision?
Olivier Cantet
: This plan also includes an ongoing PSE (employment protection plan, ed.) We envisage about thirty voluntary departures. Seventy five percent of our business is conducted in the Atlantic Arc. We had to make that decision as we were faced with the deterioration of our markets that began in 2008. Finally, the trigger occurred last July. In England, the VAT hike really drove the point home. As a result of the austerity plans of 2010-2011, many Spaniards found themselves with limited means. New customers have disappeared. Until then, France resisted, but since then the textile-ready-to-wear sector has been in decline. It went down by 15% in April, according to the IFM, compared to the previous year. In 2011 we finally stabilized revenues in Europe at around 100 million euros. France accounts for 40% of our European activity.
FM: Do you foresee a steep decline in the coming years?
OC
: In Europe, we expect a 75 million euro turnover in 2012 and 60 million in 2013. Europe, which accounted for 35% of our global turnover, should not weigh in at more than a quarter. In the first three months of the year we generated sales that have made up for the poor performance of the end of 2011. But these are t-shirts at 30 euros, which under normal circumstances go on sale for 18 euros. This is reassuring in terms of style, as these products continue to have appeal. But I cannot keep the stores that are too closely linked to promotional periods, that is to say, the sites in shopping centers or town centers. We are talking about ten stores in Europe, five in France for which the trade-offs will be made. If we close St. Catherine in Bordeaux, we are opening a fourth store in Hossegor. We will have 50 stores including 25 in Europe itself. I think we can go back to 70 on the French Atlantic coast, in Spain and Portugal and the French and Swiss Alps.
FM: In fact, your plan of action is to focus on technical products.
OC
: The market for equipment and sport has been consistent for 3-4 years. We have also seen that orders on ski jackets are up this winter. At the group level, each market manages its ready-to-wear aspect. However in terms of R&D, product development and marketing, it is globalized. And we have a permanent base among the practitioners who adopt our technologies in surf and mountainwear. The second axis is that of boardshorts and swimwear in which we have a great deal of technical expertise. Moreover, we have an agent who begins to canvass the specialized distribution within the resort itself. Finally we have graphic-arts themed textile. We are relevant in the worlds of surfing and travel. By contrast, with the arrival of other brands with competitive rates and good craftsmanship, we were encouraged to reconsider the added value of our products. We worked on two lines with logos that are in selective distribution: the Fashion, drawn from the 1970s, and the Rainbow, born in the 1980s.
FM: About this refocusing, what types of products are going to disappear?
OC
: We will move from 1800 to a thousand products. We will be stopping "junior girl". By contrast, we will focus on the women's collection, which represents over 30 of sales, even down to XXS. We will, however, keep the boy's line. Generally we are reducing pants, sweaters and cutting by half the offering of watches. We are also currently finalizing the transition of our licensed eyewear for fall 2013.
FM: Is this strategy likely to improve your profitability?
OC
: We will not reduce our teams as a short-term strategy. This is a delicate period and I think the next two years will be difficult for the sector overall. We could have counted on a business of 40 million euros to make money next year. But, despite the restructuring, the ambition is to enable the remaining teams to be able to work peacefully. This is also the message with the new store in Hossegor: we are moving forward.
A balance at the group level
FM: Rip Curl and the surfing sector, have they not missed a turn following the boom of the 2000s?
OC
: What is really complicated is the ready-to-wear market . The majority of textile brands are experiencing difficult period. Add to this the fact that fashions change. We know that in surfing it works in cycles. Today in Europe consumer spending is down and the style is more in the College and the city. Groups such as Quiksilver and Billabong benefit from this with their brands DC and Element.
FM: But, with Rip Curl, couldn't you have the same strategy?
OC
: Like Burton, Patagonia and Etnies, with our 400 million Australian dollars in sales (317 million euros) we are an unlisted player and we have no other brands. In the 2000s we were up against competitors who were two times larger than we were. Today, after the phases of consolidation, we are faced with groups which may be 10 to 20 times larger. Our shareholders are relatively cautious, not considering an IPO, and have played the geographic expansion card. With the cost of the restructuring, profitability is not at its peak in Europe. But we are having double-digit growth in Argentina, Thailand, Brazil, Indonesia and Chile and we are well-positioned in the USA where surfing is picking up again. This balance allows us to have stability at the group level.
FM: For which reasons have you not opted to create a premium brand rather than returning to the sport?
OC
: First, it is very complicated to create a new brand. We see that even Roxy with Quiksilver, which is nevertheless well identified, relaunched Quiksilver Women. We have no legitimacy with a raw product. Rip Curl is positioned on the 15-25 market and retains its surfing identity. There is a need for added value and history. The focus on sport is natural for us. François Payot of Rip Curl has used this image that I found to be accurate about our sector. The brand is like a river that has experienced a flood. This growth was not in vain as it allowed the brand to reach the general public. And in 5, 10, 20 years, some will remember it. The important thing was not to lose the original channel during this period and to find it now. This is our realm of expertise. With our wetsuits and boardshorts I have something concrete to offer. I can differentiate myself and I have no complexes when faced with Nike, or with Hurley.
Copyright © 2023 FashionNetwork.com All rights reserved.