Nike slashes 5 percent of global jobs
By Alexandria Sage
SAN FRANCISCO (Reuters) - Nike Inc (NKE.N), the world's largest maker of athletic shoes and apparel, will slash 5 percent of its 35,000-strong global workforce, or 1,750 jobs, in the largest headcount reduction in the company's history.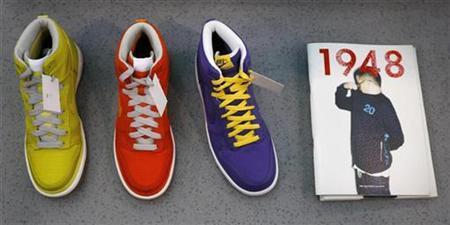 The sweeping overhaul to boost competitiveness and clamp down on costs for the owner of the famous "swoosh" logo will include about 500 positions at Nike's Beaverton, Oregon, headquarters, the company said on Thursday 14 May.
Nike said it employs about 6,800 workers at its headquarters.
The sports-gear brand first said in February that a review of its sprawling worldwide operations would likely result in a 4 percent staff reduction, or about 1,400 jobs.
Nike has already choked off production at factories in China and Vietnam, trimmed marketing spending, and reorganized its global business into six geographical groups, making China its own region.
While trying to weather a downturn in consumer spending by streamlining its global supply chain and flattening management, Nike has remained relatively resilient during the slump.
Still, shares have lost nearly a quarter of their value in the last year.
The company has banked on the cachet associated with its brand and a diversified portfolio to help it stay on course even as rivals Adidas (ADSG.DE) and Puma (PUMG.DE) have stumbled.
"We recognise the allure of Nike's best of breed status, robust cash flow ... and U.S. share gains, but believe there are meaningful headwinds that will pressure sales, margins and earnings," Sterne Agee analysts said in a May 12 report.
The company's sales declined in its most recent quarter, especially in Europe. Quarterly margins are also under pressure, but the company's selling, general and administrative costs fell nearly 4 percent in its most recent third quarter.
Nike said it hoped to complete most of the layoffs over the coming weeks.
The company's shares held steady in after-hours trading.
"Our new structure sharpens our consumer focus globally to drive continued growth," CEO and President Mark Parker said in a statement. "The decision to reduce our workforce has been a difficult and challenging one.
Besides layoffs, the company has been adjusting its supply chain to cut costs. In March, Nike said it would halt production at three of its Chinese factories and one in Vietnam, which use contract workers not directly employed by the company.
Nike is also cutting back on its marketing spending, which spiked last year in advance of the Beijing Olympics.
Shares of Nike closed at $50.95 (33 pounds) on the New York Stock Exchange, up nearly 3 percent.
(Additional reporting by Edwin Chan; Editing by Andre Grenon, Leslie Gevirtz)
© Thomson Reuters 2023 All rights reserved.