Nike says revenue to jump over 40 percent by 2015
By Martinne Geller and Alexandria Sage
NEW YORK/SAN FRANCISCO, May 5 (Reuters) - Athletic gear giant Nike Inc (NKE.N) expects its revenue to rise more than 40 percent to $27 billion by 2015, helped by demand for its namesake athletic merchandise and fast-growing brands like Converse, the company said on Wednesday 5 May.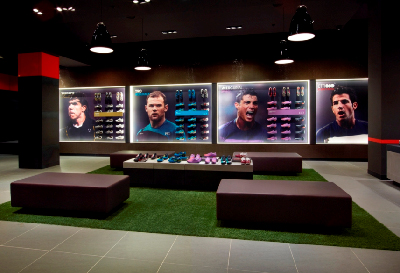 Nike Boot Room
"We're going to continue to build, fuel and accelerate the Nike portfolio," said Chief Executive Mark Parker, addressing a crowd during an investor day held in New York.
"Tremendous opportunity" still exists to grow the Nike brand organically, but the company will assess other opportunities, Parker said.
The world's largest athletic shoe and clothing maker is trying to outline plans for future growth and showcase Nike's versatility and brand strength in light of largely mature markets in the United States, Europe and Japan.
The company, whose swoosh logo is one of the world's most recognized, derives most of its sales and profits from Nike-branded gear, but its smaller brands like Converse and Hurley have been among the fastest-growing.
Nike sees its $2 billion wholesale business at Converse, which is known for its high-top sneakers, to double by 2015.
"Think of Converse as an inspired-by-basketball brand. It drifts into other areas -- into music, into rock and roll ... where Nike wouldn't go," said Eunan McLaughlin, president of Nike's affiliates unit.
That brand is only owned and managed by Nike in the United States and Canada, leaving room for opportunity, he said.
"As we start to take greater control of those markets, in China and the UK, for example, there will be an immediate impact not only on revenue but on our earnings," McLaughlin said.
Similar expansion opportunities exist for brands such as Umbro and Hurley, he said. Hurley, currently a $200 million business, will more than double to over $500 million by 2015, he said.
The company posted overall revenue of $19.2 billion in its full fiscal year ended May 31, 2009.
Beaverton, Oregon-based Nike sells mainly through wholesale channels, but also operates its own fleet of stores.
After a period of weaker sales during the downturn, especially in hard-hit Europe, Nike has recently seen stronger selling trends, including advance orders placed by retailers.
The company is emerging from a period of cost-cutting -- including a 5 percent reduction in its global workforce -- and is now trying to revive its sluggish apparel segment and boost its direct-to-consumer channel.
Parker said the company's cumulative free cash flow from operations should hit $12 billion by 2015. Nike will continue to grow its dividend and will spend $5 billion in share buybacks over the next five years, he said.
Shares of the company fell 1.7 percent to $76.00.
(Reporting by Martinne Geller and Alexandria Sage, editing by Dave Zimmerman)
© Thomson Reuters 2022 All rights reserved.