Nike rises to Greenpeace challenge
Last month, non-governmental organisation Greenpeace set a challenge to all major clothing brands in order to test their commitment to protecting the environment. In order to see whether these brands go beyond just "greenwashing", Greenpeace asked them to put pressure on their subcontractors to eliminate all toxic chemicals from their products. A few days ago, Nike contacted Greenpeace saying that it accepted the challenge and is already introducing a new leather sourcing policy. The new set of rules will help the fight against deforestation of the Amazon forest.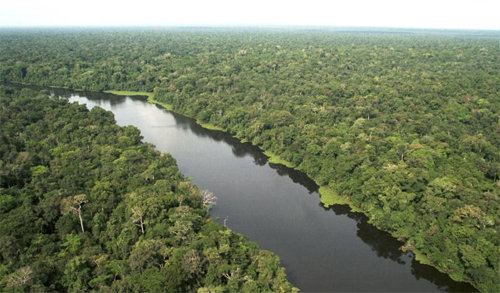 The Amazon forest (photo by Greenpeace)
The announcement on behalf of Nike came only a few weeks after Greenpeace published a paper entitled «
Slaughtering the Amazon
» , in which it explained the deforestation that is ravaging "planet Earth's lungs". A suggested reason for the growing devastation is the increased demand for cattle, prompting farmers to clear land.
"Nike has set a great precedent for Timberland, Adidas, Reebok, and Clarks to follow," said Greenpeace campaigner Lindsey Allen. "Brazil's cattle industry, which supplies leather for shoes, accounts for about 80% of all deforested areas in the Amazon. In fact, the Brazilian cattle industry is the largest single source of deforestation anywhere in the world. And deforestation in turn causes one-fifth of all the greenhouse gas emissions in the world, more than all the world's cars, trucks, trains, planes, and ships combined."
For the time being, Nike has officially committed to eliminating all hazardous chemicals across its entire supply chain, however it will only be able to do so by 2020. For the fiscal year 2010/11, Nike turned over 20.86 billion dollars, up 10% in comparison to the previous year. The group reported a net income increase of 12% to 2.1 billion dollars.
Copyright © 2023 FashionNetwork.com All rights reserved.