Nike realigns geographical footprint worldwide
SAN FRANCISCO, March 20 (Reuters) - Nike Inc (NKE.N) said on Friday March 20 it is reorganizing its global business to create six new geographical groups, part of an ongoing restructuring to bring goods closer to market and reduce management overlap.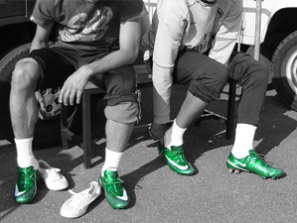 "Testing Tour" by Nike
Nike's new geographical areas are North America, Western Europe, Eastern/Central Europe, Greater China, Japan and Emerging Markets.
Formerly the Nike brand used four regions: U.S., Asia Pacific, Americas and an area comprised of Europe, the Middle East and Africa.
Making China its own region is significant for the Beaverton, Oregon-based brand, as Nike has recently seen explosive growth in that country, the company's second-largest market.
Sales in advance of the Beijing Olympics last summer pushed China sales up past 50 percent in the year-ago third-quarter. They have since moderated, but Nike still expects robust growth in China.
Last month, Nike announced a company-wide review that could result in a 4 percent cut in its global workforce of nearly 35,000.
The company is looking at all aspects of its business, which logged $18.6 billion in sales in fiscal 2008, from its supply chain to marketing, to find ways to trim costs and become a leaner organization.
Nike also announced that Eunan McLaughlin would become the new president of Nike's subsidiary brands group. The group, which includes non-Nike brands like Converse, Umbro, Cole Haan and Hurley, has been led by Lee Bird, who is leaving after three years with the company to pursue other opportunities, Nike said. (Reporting by Alexandria Sage; Editing by Brian Moss)
© Thomson Reuters 2022 All rights reserved.