Net-a-Porter invests in the Chinese market
In line with its plan to enter and develop itself in the Asia-Pacific market, British company Net-a-Porter has just announced the acquisition of Chinese e-commerce platform Shouke Limited.

Bought in April 2010 by the Richemont group, Net-a-Porter currently controls three e-commerce websites: Net-a-Porter, TheOutnet and Mr Porter. Now, the London-based company is keen to explore the full potential of the Asia-Pacific region.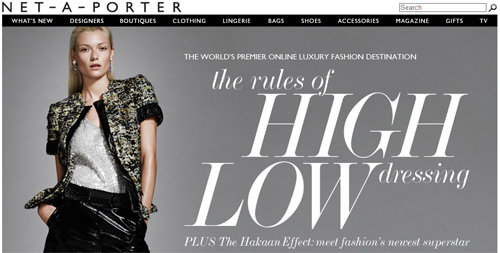 Net-a-Porter.com
The first step into China will be taken in March with the launch of a Chinese version of TheOutnet, the company's division which sells products from previous seasons. The new website will offer merchandise from around 100 brands with discounts of up to 80%. Then, it will be Net-a-porter.com's turn to enter the Chinese market, firstly with a Chinese-language version of its iPad application, then with the launch of a simplified version of its website. As for Mr Porter, the website dedicated to menswear will have to wait until 2013 to enter the market.
In order to serve the Asia-Pacific region, Net-a-Porter also announced the launch of a distribution centre in Hong Kong. Scheduled to open in 2013, this will be Net-a-Porter's third centre (in addition to the ones in London and New York), and will deliver orders from the company's three websites. "Hong Kong customers - like those in London and Manhattan - will be offered same-day delivery," said Net-a-Porter. "All other cities and regions worldwide will get their deliveries within 24 hours."
In charge of the company's new Asia-Pacific division will be the three founders of Shouke Limited. This way, Paul Teague will be president of Asia-Pacific, Adrienne Ma will be the vice president of Asia-Pacific for merchandising, marketing and content, and Richard Chen will be the president of its Chinese market.
"Like many businesses in the luxury sector, we have seen huge growth in recent years... The opening of our third distribution centre is another step closer to reaching our goal of offering the best of fashion overnight to customers all over the world."
The Net-a-Porter group currently sells 400 brands in 170 countries. After the launch of Net-a-Porter.com in 2001, the company founded The Outnet in September 2009 and enlarged its offering with the acquisition of Koodos.com. This was followed by the opening of Mr Porter's website in February 2011. For its fiscal year ended March 31st 2011, the British company registered a turnover of 6.89 billion euros, up 33% in comparison to the previous year.
Copyright © 2023 FashionNetwork.com All rights reserved.