Net-a-Porter buys Koodos.com
Under receivership, the discount clothing site Koodos.com has just been bought by British company Net-a-Porter, a subsidiary of Richemont, in order to strengthen its own discount category, TheOutnet.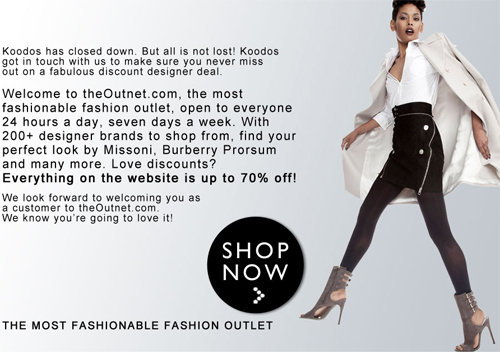 This is the message that awaits those who try to log-on to Koodos.com
Launched in 2009, TheOutnet now becomes owner of the Koodos name, and the commercial database of the website. These customer details will shortly therefore be transferred fully to TheOutnet for its expansion. Koodos sold more than 200 brands, according to its managerial team, many of which TheOutnet also offered.
The Koodos.com web address already redirects customers to TheOutnet.com, where the visitor is greeted by a message explaining the change. "Koodos has closed down. But all is not lost!...Welcome to TheOutnet.com, the most fashionable fashion outlet..."
Original by Matthieu Guinebault. Translated by Rosie Hart
Copyright © 2023 FashionNetwork.com All rights reserved.