Neiman Marcus beefs up tech to fight off upstarts
May 25 - The names Neiman Marcus and Bergdorf Goodman evoke a certain old-fashioned luxury department store elegance, not technology savvy.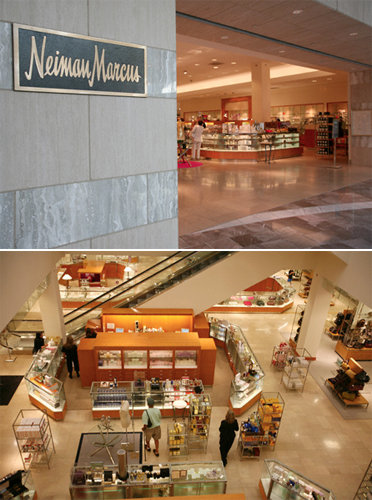 Neiman Marcus store in Paramus, New Jersey (Photo: Corbis)
But the upscale department stores' parent Neiman Marcus Group is rolling out new initiatives like streaming fashion shows to let shoppers order designer gowns before they reach stores, and investing more in mobile technology to keep up with upstarts eyeing the fashion sector.
Internet sales are the fastest growing part of Neiman Marcus' business and accounted for 15.6 percent of overall sales last year.
Neiman Marcus is reaping the benefit of being an early pioneer among luxury department stores to embrace e-commerce, and growth there will continue to outpace its brick-and-mortar stores, Neiman Marcus Chief Executive Karen Katz said on Wednesday.
"People underestimated it. We never did," Katz said, speaking at the Reuters Global Luxury and Fashion Summit.
Neiman recently started live streaming fashion shows to let customers place orders from those shows for later delivery.
"We think there's a nice business we can do there," Katz said. Neiman is competing in that business with a start-up like Moda Operandi, which told Reuters at the Summit that is in talks with venture capitalists for a new round of financing.
Last year, Neiman launched three applications for Apple Inc's iPad, including one to help women shop for shoes at Bergdorf. It is also investing in new technology to make it easier for customers to shop using their smartphones.
"We're seeing a staggering amount of business coming from people using their iPads," Katz said.
Neiman is also gingerly delving into the competitive area of flash sales, which allow members to buy items at deep discounts for a short period of time, going up against flash-sale leaders such as Gilt Groupe and Rue La La.
"We're holding our own," Katz said.
Nordstrom Inc bought flash site Haute Look in February for $180 million to keep up.
Saks Inc launched its Fashion Fix flash site in late 2009, but CEO Steve Sadove told the Summit on Tuesday that "it's early innings" and that relatively little merchandise is sold via the flash site.
For luxury chains like Neiman and Saks, the push for online sales is front and center in their strategy.
"We're selling more fashion on our website than in a number of our full line Neiman Marcus stores," Katz said.
By Phil Wahba
(Reporting by Phil Wahba; Editing by Richard Chang)
© Thomson Reuters 2023 All rights reserved.