Mulberry ups profit view as luxury booms
Jan 21 - British luxury group Mulberry raised profit forecasts for a second time in six weeks on Friday, joining the ranks of upmarket retailers reporting a strong Christmas helped by demand from tourists and Asia.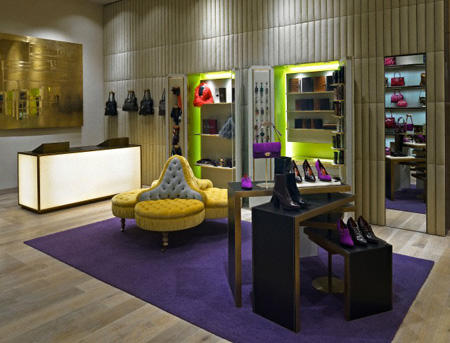 Mulberry store on Oxford Street, London
Mulberry, best known for its leather handbags, said sales at its own stores leapt 66 percent in the six weeks to Jan. 15.
Wholesale orders for Spring 2011 were up 104 percent, with three months of the season still remaining, it said.
"A bullish update," said Arden Partners analyst Nick Bubb.
"Full-year pretax profits will be ahead of expectations. But then, with the PE (price-to-earnings ratio) about 70 at 1,266 pence, they need to be," he said.
Mulberry shares, which have risen about fivefold over the past 18 months, were up 4.1 percent at 1,301 pence at 0835 GMT , valuing the company at about 759 million pounds.
House broker Altium raised its profit forecast for the year ending March to 18.5 million pounds ($29 million) from 15 million, and doubled its share price target to 2,000 pence.
Luxury brands across the world have bounced back strongly from a deep recession, driven by surging demand in Asia.
Larger British luxury group Burberry said on Tuesday its full-year profit would be at the top of expectations, while on Monday Swiss group Richemont reported a big rise in third-quarter sales.
Mulberry chief executive Godfrey David said demand was particularly strong in Hong Kong, Singapore and South Korea but British consumers were also still buying its handbags, which mostly cost 500-900 pounds, despite a tough economic outlook.
There had been no noticeable impact on sales from the rise in Britain's VAT sales tax on Jan. 4, he told Reuters, contrasting with electricals retailer Kesa which said on Wednesday it had seen a softening in demand.
Mulberry's new Tillie family of bags was selling well, while its older Alexa, Bayswater, Daria and Mitzy ranges were also still in demand, Davis said.
(Editing by Kate Holton and Dan Lalor) ($1 = 0.6309 pound)
By Mark Potter

© Thomson Reuters 2022 All rights reserved.