Mothercare takes axe to UK as overseas booms
May 18 - Mother and baby products firm Mothercare is to close over a quarter of its British stores as a collapse in UK profits eclipsed strong growth in overseas markets.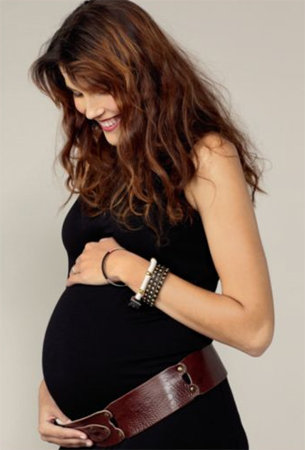 Clothing for pregnant women by Mothercare
The firm, which issued profit warnings in January and March, said on Wednesday it would shrink its UK in-town store estate as it focuses on high growth markets like China, India, the Middle East, eastern Europe, and Latin America, where it can benefit from higher birth rates and burgeoning middle classes.
In the UK several household names are struggling under intense competition from online retailers and supermarkets and from tough conditions for consumers as prices and taxes rise and government spending is cut.
Store groups including HMV, JJB Sports, Thorntons, Comet and Blacks Leisure are also closing shops to avoid the fate of retailers such as Woolworths and Zavvi, which went bust in the recession.
In the UK Mothercare plans to take advantage of 120 lease expiries over the next two years. About 110 stores would be closed, while 40 would benefit from rent renegotiations.
Mothercare does not expect to shed more than about 250 jobs out of a current UK workforce of about 7,300, as some staff would be re-deployed.
UK REVOLUTION
"UK retailing is going through a real revolution at the moment, particularly in the high street. Trade is being taken by out-of-town stores and by the Internet, so there's just fewer people shopping in town. At the same time there's a consumer downturn," Mothercare Chief Executive Ben Gordon told Reuters.
"At the same time international is booming ... 99 percent of the world's babies are outside the UK so that's really where the huge opportunity for Mothercare lies," he said.
Gordon said the firm would not incur any costs for closing 80 stores where leases expire but would take a hit of about 5 million pounds ($8.14 million) for closing 30 stores that do not have a lease expiry.
Its plan would see it trading from about 266 UK stores by March 2013, reducing occupancy costs by 18 million pounds, and benefiting UK profit by at least 4-5 million pounds per annum.
Mothercare said underlying pretax profit fell 23.4 percent to 28.5 million pounds in the year to March 26, in line with analysts' forecasts, reduced after the earlier profit alerts.
The firm's worldwide network sales increased 7.1 percent to 1.16 billion pounds.
UK profit slumped 69 percent to 11.1 million pounds, with sales at stores open over a year down 4 percent.
By contrast, overseas profit rose 18.5 percent to 27.5 million pounds as Mothercare opened 166 new stores.
The firm, which currently trades from about 900 overseas stores in 54 countries, forecast international retail sales growth of 15-20 percent in 2011-12, with 150 new store openings.
Shares in Mothercare, which prior to Wednesday had lost a quarter of their value over the last year, were up 5.4 percent at 374 pence at 1205 GMT, valuing the business at 405 million pounds, on relief the store exit costs would be minimal.
"We can justify some premium for the growth overseas, but, unless management can stop the rot in the UK and find a way to release the value in the overseas business, we fear more disappointment lies ahead," said Arden Partners analyst Nick Bubb.
Gordon said the firm, which is paying a total dividend of 18.3 pence, up 8.9 percent, plans to further develop its Internet and wholesale offers and is also trying out new UK store concepts for both Mothercare and Early Learning Centre.
By James Davey
(Editing by Mark Potter and Will Waterman)
© Thomson Reuters 2023 All rights reserved.