Morrisons enters convenience store war
July 11 - Wm Morrison Supermarkets opened its first convenience store on Friday, hoping a focus on fresh produce will help it stand out as grocers dash to tap the trend towards more local shopping.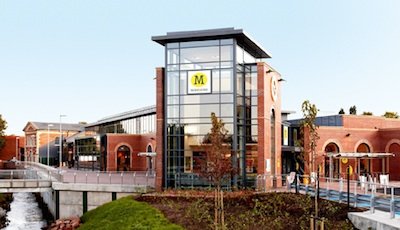 Support for the British farming industry is of particular importance to the company.
Britain's fourth-biggest grocer said on a media trip to its new 3,000 square feet M Local store in Ilkley, northern England, that its neighbourhood outlets would sell fresh meat and fish, delivered every day, as well as fresh bread, cakes, pastries, salads, coffee and juices.
Prices on about 75 percent of goods, including all fresh produce, would be the same as at larger stores, which it said would set it apart from competitors which tend to charge more at their convenience shops.
Morrisons said it could afford to do this because fresh food earns a higher profit margin and because it planned to sell more higher margin own-label products too.
Some 40 percent of space will be allocated to fresh foods and the firm will carry 30 percent more fresh lines than a typical competitor convenience store.
"Convenience is one of the fastest growing sectors of the market and developing our offer in this channel is a key part of our growth strategy," said Chief Executive Dalton Philips.

SHOPPING LOCALLY

Britons are shopping locally and more frequently as they try to cut back on waste and soaring petrol costs.
"It's an incredibly difficult environment. The consumer is under intense pressure," said Philips.
Grocery market specialist IGD forecasts sales at British convenience stores will grow at a compound annual rate of 5.5 percent over the next five years to 42.3 billion pounds, outpacing projected growth of 3.7 percent for the wider grocery market.
The country's top food retailers are rushing to build up their positions in a still fragmented part of the market.
J Sainsbury, Britain's third-biggest grocer, is opening one to two convenience stores a week, while upmarket chain Waitrose told Reuters last week it expected to beat its target of 300 convenience stores this decade.
With Morrisons lagging, Philips hopes the focus on fresh produce will be a key differentiating factor, although he declined to put a figure on how big the firm's convenience store business might become.
"Because we're later in we can see what worked with others and what didn't," said Finance Director Richard Pennycook.
"When we're ready to go, we'll go with ambition," he said.
The group will open two more pilot M Local stores this year in Widnes and Wilmslow, and will update on the trial shops' performance when it publishes full-year results in March.
Most convenience stores offer a limited range of fresh produce, and not everyone is a fan.
While expanding its smaller supermarkets, Wal-Mart's Asda, Britain's second-biggest grocer, has so far shunned convenience stores, saying they have to charge higher prices to make the economics work.
Unlike its main rivals, Morrisons produces around half of the fresh food it sells, which it says allows it to be very competitive on price and to get it onto shelves more quickly.
Philips said the group would continue to grow its manufacturing arm and could look at adding a dairy operation.
Morrisons has outperformed sales growth at larger rivals Tesco, Asda and Sainsbury in recent months, helped by its focus on fresh foods, as well as innovative promotions and a lower exposure to discretionary non-food goods.
Morrisons' drive into convenience stores is one of a series of growth avenues being explored by Philips as he looks to follow the diversification of bigger competitors.
These include selling more non-food ranges following the purchase of baby goods website Kiddicare and an investigation into selling groceries online following the purchase of a 10 percent stake in U.S. Internet grocer FreshDirect.
Commercial director Richard Hodgson said the group was still in talks with a number of potential partners for childrenswear, but a deal with designer George Davies, which was the subject of speculation a few months ago, was unlikely.
Shares in Morrisons closed down 0.3 percent at 299.9 pence, valuing the business at about 7.85 billion pounds.

(Editing by James Davey and Greg Mahlich)
© Thomson Reuters 2023 All rights reserved.