Montblanc looks at Saudi growth, diversity
By Tamara Walid and Daliah Merzaban
DUBAI (Reuters) - Germany's Montblanc said on Tuesday 9 June it would open four boutiques in Saudi Arabia this year to target more of the watch and jewelry market among Gulf Arab clientele with an appetite for opulence.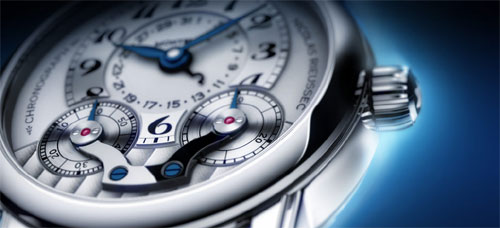 Montblanc Nicolas Rieussec Monopusher Chronograph
Makers of luxury brands in cars, fashion and even electronics have increased their presence in the world's biggest oil-exporting region, still flush with cash from a six-year boom in energy prices that ended last year.
In Dubai, a regional shopping hub boasting extravagant malls, Montblanc, owned by luxury group Richemont (CFR.VX), has a greater retail presence per capita than it does in Europe, said Montblanc regional director Joe Nahhas at the Reuters Global Luxury Summit in Dubai.
Despite a slowdown in retail demand during the global recession, Montblanc is pushing on with plans to expand in top oil exporter Saudi Arabia, where it recently opened outlets in the capital Riyadh and the port city Jeddah, Nahhas said.
"There's definitely strong appetite for luxury in this region, driven by local and certain parts of the expatriate community, and tourists," he said. "There's an overall decrease in sales but still (there is) appetite."
Montblanc was still following plans set three years ago as it looked at long-term growth for its brand. Last year, it opened a Montblanc boutique for each Gulf country.
Many luxury retailers are looking to build their brands in Saudi Arabia, the largest Gulf economy, where shoppers tend to travel abroad for their luxury buys.
"It's definitely underserved," Nahhas said.
"People who have the money are the people who travel a lot. They are definitely spending, but not as much in their country. A few luxury brands are making sure there is the right environment there in Saudi Arabia."
While buyers in the region have a "lot less propensity to spend" after the crisis hit, many "stay within the segment but move down" from the top luxury to mid-tier level, he said.
Montblanc, operates four of its own outlets in the region as well as more than 20 others through franchises, Nahhas said.
The company, known for its high-end line of luxury pens, has managed to reduce the proportion of its pen sales to about half of total sales as it diversifies its business line into watches and fine jewelry, he said.
Apart from Saudi Arabia, Qatar -- where the economy is forecast to grow as much as 18 percent this year according to some estimates as it ramps up liquefied natural gas production -- also provides good growth prospects.
A drop in the number of tourists in Dubai in the first quarter had hit sales, said Nahhas, but loyal buyers were still in the market for luxury goods in the emirate, the region's trade and tourism hub, he said.
Dubai's tourism industry slowed in the first quarter with hotel guest nights falling 16 percent and revenues dropping 15 percent due to the financial crisis, official data showed.
But demand in emerging markets cannot be expected to make up for the slowdown in bigger markets, he said, maintaining a cautious stance on recovery.
"We see a lot of fluctuation in sales. I'd rather wait and see... even if worst is behind us, factors need to play out. I expect this entire year will be a very difficult one."
Richemont, the maker of Cartier watches, reported a 12 percent drop in its full-year operating profit, in May and cautioned it faced tough markets, adding that its head would step down this year.
The company, rivals Britain's Dunhill and independent French luxury pen and lighter maker S.T. Dupont (DPTP.PA).
(Editing by Inal Ersan and Mike Nesbit)
(For summit blog: summitnotebook.reuters.com/)
© Thomson Reuters 2023 All rights reserved.