Monnier Frères has its sights set on Europe
The French high-end accessories e-commerce site Monnier Frères, launched July 7th, intends to cover 26 European countries between now and the end of 2012. The site recently went live in Germany and Italy and will add Great Britain next.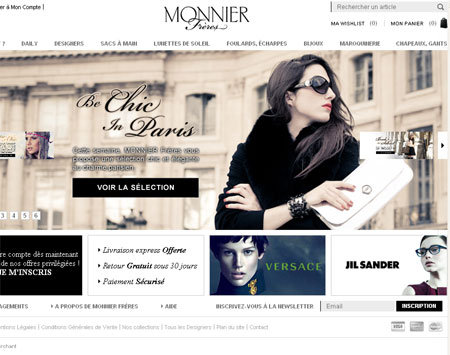 Monnier Frères site portal
Supported in part by the fundraising efforts of Marc Simoncini (founder of Meetic.fr) to the tune of 2.5 million euros, the Monnier Frères company founded by Guillaume and Jean Monnier the company has focused on premium accessories, bags, sunglasses, scarves, small leather goods, jewelry, hats and gloves. Versace, Azzaro, Balmain, Barbara Bui, Emilio Pucci, Jil Sander, Jérôme Dreyfuss, Ragazze Ornamentali, Valextra and 3.1 Philipp Lim are some of the fifty-plus brands in stock.
For now, a little over 1,200 items in all product categories are online, with this number expected to rise shortly. The idea is "to be like the groud-floor of a large Paris department store", explained Guillaume Monnier, ex-vice-president of Dior Japan, in charge of merchandising. Hence the more conservative selection to start with, and moving on to more unexpected pieces. And following the example of multi-brand stores, the team itself purchases the products.
Backed by Pixmania for both logistics and site development, monnierfreres.fr is fully managed from the Paris region and translated into the language of each country where it it has launched, with a call center that fields requests in each local language. Without losing its unequivocal French touch, and French name, Monnier Frères has its sites sets on a wider European market. In other words, an item available on the site is available in every country where the Monnier Frères operates, unless it is out of stock. And, regardless of the country, delivery within 24 hours is guaranteed. Each item is wrapped in tissue paper and shipped in a white cardboard box, both stamped with the Monnier Brothers logo. The packaging is similar to that net-a-porter.com.
Launched during the holidays, sales really took off this past month. Which coinceided not only with a return to the office after the holidays, but also with the beginning of the Monnier Frères online presence. Some ads have also been placed in women's magazines. Still, "it was only since the end of August where we have begun to see trends. Like the fact that French brands such as Jérôme Dreyfuss and Vanessa Bruno, are selling well. Jewelery too." As for the average purchase, Guillaume Monnier reports it to be 400 euros, with the starting price being 350 for bags and 150 euros for other products.
Copyright © 2023 FashionNetwork.com All rights reserved.