Moncler targets $700 mln from Milan IPO
May 24 - Outerwear maker Moncler is hoping to raise around 500 million euros ($700 million) from an initial public offering (IPO) in Milan next month, two sources close to the deal said on Tuesday.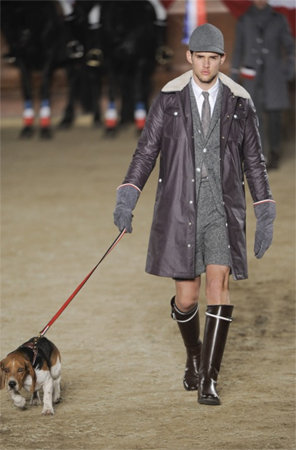 Moncler A/W 2011-12 at Milan Fashion Week
The maker of trendy goose-down jackets has begun marketing its share sale to potential investors and was expected to set a price range during the week of June 6, the sources said.
Books on the offering were due to close either late the week of June 13, or early the week of June 20, they said.
The offering comes as Italian luxury goods company Prada aims to raise $2 billion from a Hong Kong listing next month. The catwalk powerhouse was also due to begin roadshows around June 6.
Moncler's IPO will be made up mainly of existing shares -- mostly from U.S. private equity firm Carlyle which owns 48 percent stake of the company.
In February, Marco De Benedetti, European co-head for Carlyle, told Il Sole 24 Ore that Moncler could be priced at 10-12 times 2011 earnings before interest, tax, depreciation and amortisation, or about 1 billion euros.
Last month Moncler reported 2010 revenues of 429 million euros and net income of 52 million. Earnings before interest, tax, depreciation and amortisation (EBITDA) were 102 million euros.
The offering is being run by Bank of America Merrill Lynch, Intesa Sanpaolo's Banca IMI, and Morgan Stanley.
Moncler was not available for comment.
(Reporting by Kylie MacLellan; Editing by Dan Lalor)
© Thomson Reuters 2022 All rights reserved.