Metro plan could herald Arcandor's breakup
By Eva Kuehnen and Mark Potter
FRANKFURT/LONDON (Reuters) - Metro AG's (MEOG.DE) proposal to combine its Kaufhof department stores with the Karstadt chain of debt-laden rival Arcandor (AROG.DE) could trigger the break-up of one of Germany's oldest retail groups.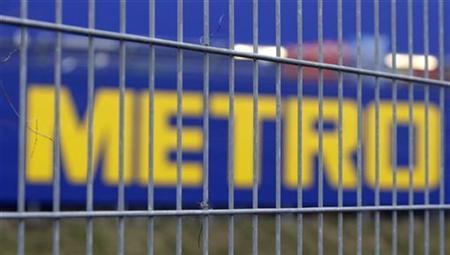 Arcandor, which traces its roots back to 1881, is seeking 650 million euros ($884 million)in government loan guarantees to stave off insolvency.
But Metro's proposal to create "German Department Store Inc" could make it harder for Arcandor to secure state support, by offering a cheaper alternative for ministers, some of whom oppose giving aid set aside for victims of the credit crunch to a company with long-term problems.
Even if the Karstadt/Kaufhof deal goes ahead it would probably not be the end of Arcandor's problems, as in the absence of state aid it would likely still come under pressure to sell its main profit engine -- a roughly 52 percent stake in holiday group Thomas Cook (TCG.L) -- to pay off its debts.
So far it has ruled out this option.
Germany's third-largest tour operator, Rewe, has been tipped as a potential suitor for Thomas Cook, while privately owned mail order group Otto has said it might be interested in parts of another of Arcandor's assets, the home shopping business Primondo.
"If they start selling off business units, then I think they will sell them all off and that would be the end of Arcandor," said Daniel Lucht, senior analyst at retail researchers Verdict.
Arcandor and Metro started talks about a possible tie-up of their department store chains on Thursday, signaling an alliance could be an option. But Arcandor said this alone would not solve its financial problems.
It needs to renew credit lines worth up to 710 million euros by June 12. This effort hinges on loan guarantees from the German government's bailout fund.
But this fund is reserved for companies whose troubles were triggered by the financial crisis. Some politicians have therefore questioned whether Arcandor qualifies for state help.
"The government has said we're always happy to help companies who have begun to suffer as a result of the credit crunch and have a sustainable business model. Neither is the case with Arcandor," Planet Retail analyst Boris Planer said.
DEJA VU
Arcandor already had a brush with collapse in late 2004. It was then saved by Thomas Middelhoff, who took over as chief executive in 2005, sold real estate worth billions to ease the group's debt and bought the Thomas Cook stake.
But the group's department store and mail order units kept losing money and when Karl-Gerhard Eick took over from Middelhoff in March he inherited a net debt load of 1.4 billion euros ($1.9 billion) and a deteriorating German retail outlook.
Department stores in particular are struggling as customers increasingly shop at discounters, specialist shops or online.
Planet Retail's Planer wonders whether German department stores have a future at all and points to the demise of former Arcandor unit Hertie and Woolworth Germany. "There is a reason for it, and I don't think these chains were managed too badly."
A national champion, as proposed by Metro, would seek synergy savings and may be able to increase profitability by taking out overcapacity.
"We continue to believe that a combined Kaufhof-Karstadt department store chain is now likely to come true with Media Markt/Saturn probably taking over some closed stores and consumer electronic departments of Kaufhof/Karstadt, which we regard as very attractive," Merck Finck analyst Robert Greil said in a note.
Metro's Media Markt/Saturn unit is Europe's largest electrical goods retailer.
Rewe, which is also Germany's second-largest food retailer, has denied any interest in Thomas Cook, Europe's second-largest travel company, but has said it is looking for acquisitions.
Analysts said Thomas Cook could benefit from Rewe's broad travel agent network in Germany, while Rewe could gain from Thomas Cook's strong brand image. Another option would be for Arcandor to sell its stake in Thomas Cook in the market.
"Arcandor will have to sell Thomas Cook. There is no better way to solve their debt problem," said Michael Gierse, fund manager at Union Investment, which has 145 billion euros in assets under management. "Rewe could be strongly interested in Thomas Cook Plc. They would fit very well together."
(Editing by David Holmes)
($1=.7254 Euro)
© Thomson Reuters 2023 All rights reserved.