McQueen's final fashion show a celebration of life
By Sophie Hardach
PARIS (Reuters Life!) - British designer Alexander McQueen's final collection on Monday 8 March revealed a feast of colors and textures, celebrating his skill and passion for spectacle just weeks after his suicide.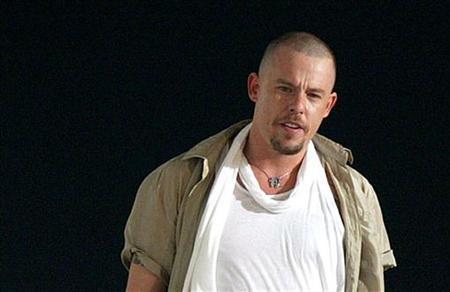 British media reported that McQueen had been inconsolable over the death of his mother earlier last month, and that he had a history of depression.
His creations in this collection, however, showed the other side of his personality: joyful and life-embracing.
Assistants choked back the tears as they watched stony-faced models display clothes fit for mystical creatures.
A golden feather coat fanned out into a soft, pleated white skirt; a long red gown was embellished with thousands of gold discs that rustled eerily with every step; while a black, embroidered Venetian cape evoked cloak-and-dagger mystery.
Inspired by the Old Masters of painting, fabric was drawn back to reveal gold embroidery, a feather skirt or a glimpse of flesh. Prints reflected the gory fantasies of Hieronymous Bosch, while long, floating gowns traced the soft sweetness of a Botticelli Venus.
"Each piece is unique, as was he," McQueen's fashion house said in a statement released with the collection.
Known as the rebel of fashion, McQueen shot to fame with provocative ideas such as low-cut "bumster" trousers, but his later work was dazzling and bewitching rather than shocking.
Over the past weeks, retailers have reported booming sales of his clothes and accessories. The autumn collection was almost ready when McQueen took his own life.
"It was all inspired and developed and all patterns were cut by Lee," said Alexander McQueen Chief Executive Jonathan Akeroyd told Reuters, using McQueen's given first name.
"It was well under way and the development was very much in final stages, so it was just about carrying on finishing the pieces," he said after the show. "We had four weeks to finish his work."
McQueen had envisaged an extravagant spectacle -- his spring show last year featured robotic cameras and models on towering claw shoes. However, after his suicide in London in February, the fashion house chose a small, subdued setting in a discreet villa not far from the Seine.
"We decided this was the best way to do it, in a very low profile environment -- the most appropriate way in light of what has happened," Akeroyd said, adding there was no talk of a successor.
(Editing by Paul Casciato)
© Thomson Reuters 2023 All rights reserved.