Mavi entrusts the premiere of Gold to Hussein Chalayan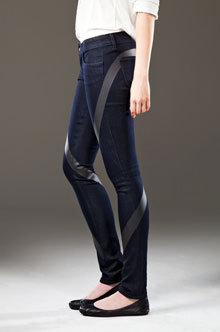 Mavi launches Gold at Bread & Butter
Mavi is taking a step forward. The Turkish denim expert announced a first collaboration which will be with Hussein Chalayan. In fact, it has entrusted the Turkish Cypriot designer with the first collection for Mavi Gold, its new premium line, launched at Bread & Butter. "Gold's mission is to be designed anew each time by a renowned designer," says a spokesperson for Mavi. If Mavi Gold is officially launched by the spring of 2013, the first models will be sold in preview in the U.S. in the month of November.
Hussein Chalayan, Puma's renowned fashion designer and designer of his own label, has designed about twenty distinct pieces for Mavi, only for women and mostly bottoms. The retail price of Mavi jeans Gold will range between 100 and 150 euros as compared to the 69 to 99 euro range for a model from the normal collection.
Mavi, meaning blue in Turkish, was born in 1991. The brand has a vast worldwide network of multi-brand outlets and 280 branches with flagships in New York, Berlin, Vancouver, etc.
Copyright © 2022 FashionNetwork.com All rights reserved.