Marks & Spencer plans plus-size uniform
Published
today
Jul 26, 2010
To accommodate all shapes and sizes, M&S trial a range of childrens' schoolwear. As the UK's leading school wear retailer M&S have felt obliged to provide children with clothing that fits, particularly for the most part of their daily lives which takes place at school.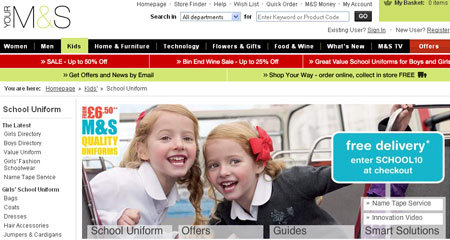 www.marksandspencer.com
M&S will launch a range of school uniform for their younger target market that is seemingly overweight or obese. The number of obese children has tripled in 20 years. 10% of six year olds are obese, rising to 17% of 15 year olds, according to the BBC website.
Current schoolwear ranges at M&S boast quality and innovation; with concepts like non-iron, stain resistant, value and fashion clothes for school. Free standard delivery and a name tape service feature in the group's offering, adding to their popularity.
A spokesperson for Marks & Spencer says: "This is a small online trial in response to customer demand. At the other end of the sizing spectrum we also offer a small range of slim fit clothing which has been popular with our customers."
By Rosie Hart
Copyright © 2020 FashionNetwork.com All rights reserved.