Macy's "financially healthy," says chief executive
SAN FRANCISCO (Reuters) - Macy's Inc is "financially healthy" in spite of the declining value of its share price, Chief Executive Terry Lundgren wrote in a letter to executives on Friday.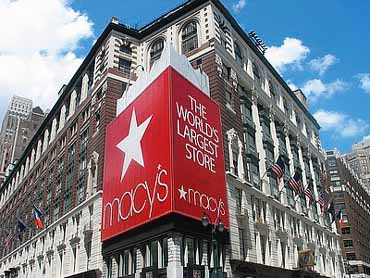 Devanture d'un magasin Macy's
Macy's sales at stores open at least a year were down 1.9 percent for the first two months, May and June, of the company's fiscal second quarter, he wrote.
The department store chain was outperforming competitors and taking market share from rivals "in this challenging economic environment," he said.
The letter, obtained by Reuters, was to be filed with the U.S. Securities and Exchange Commission, a spokesman for Macy's said.
Macy's shares have fallen 61 percent in the past year and 19 percent since July 1.
In May, the company posted a $59 million loss in its first quarter, hurt by restructuring charges, but stood by its full-year earnings forecast.
The company is trying to trim costs and improve sales, which have suffered in the weak U.S. economy as middle-income shoppers have pulled back on spending, whether for apparel or home goods.
The chain no longer posts monthly same-store sales data, which is a key gauge of retail performance for Wall Street.
Macy's, which also operates the upscale Bloomingdale's chain of stores, has strong cash flow, Lundgren wrote, and recently issued $650 million in new debt to retire existing debt maturing in the third quarter.
"And we have $2 billion in bank credit agreements in place, which we can tap when needed," Lundgren said.
Lundgren cited the weak stock market and retail shares that have declined in value in recent months and said it was important for executives to "understand the direction of business at Macy's, Inc."
"I recognize how distracting the economy is for all of our people. The headlines and newscasts are overflowing with gloom and doom. In spite of it all, I am proud of how our organization has risen to the challenge of continuing to embrace change, serve our customers and innovate with unique new merchandise and marketing and selling programs," Lundgren wrote.
"This is a time for us to maintain our focus, and I thank you in advance for doing so."
(Reporting by Alexandria Sage; editing by Carol Bishopric)
© Thomson Reuters 2023 All rights reserved.