M&S profit tops hopes; consumers upbeat
By Mark Potter and James Davey
LONDON (Reuters) - Confidence about economic recovery appears to be building, though companies remain wary and are still relying heavily on cost cutting to boost profits.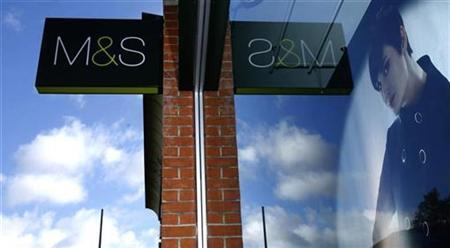 Clothing retailers Marks & Spencer (MKS.L) and Next (NXT.L) beat profit and sales forecasts respectively on Wednesday 4 November, while builders Taylor Wimpey (TW.L) and Redrow (RDW.L) highlighted a pick up in the housing market, lifting shares in all four firms.
But the companies also said their performance was flattered by extremely weak trading in the same time last year following the collapse of U.S. bank Lehman Brothers, and were worried about taxes rising next year to address rising government debt.
"What we can say with some certainty is that the consumer is not in freefall and we're seeing stability, if somewhat subdued stability, in consumer spending," Next Chief Executive Simon Wolfson told Reuters.
"(But) no one quite knows what the effect of increased taxation is going to be next year."
Hopes of quick economy recovery in Britain were dealt a blow last month when official data showed an unexpected drop in activity in the third quarter, making the current recession the longest ever.
The Nationwide consumer confidence index showed on Wednesday 4 November that consumer morale hit its highest level in the last two months since April 2008. But that survey was taken before the third-quarter growth data.
"I think we've been through the worst of the downturn," Marks & Spencer (M&S) Chairman Stuart Rose told reporters.
But consumer confidence was "fragile" and competition between companies was likely to be intense heading into the key Christmas trading period, he said.
The British Retail Consortium said shop prices were flat in October compared with a year ago, with food prices up 2.5 percent and non-food prices down 1.3 percent, falling for an eleventh month in a row.
"Retailers continue to feel the need to price competitively to get reluctant consumers to part with their money," said IHS Global Insight economist Howard Archer.
BEATING FORECASTS
M&S, which trades from over 650 stores in Britain and about 300 abroad, said profit before tax and one-off items was flat at 298 million pounds in the six months to September 26.
That beat analysts' average forecast as tight control of costs and stocks offset price cuts and weak demand.
The 125-year-old group also said it planned to sell a selected range of around 400 branded grocery and household products, like Marmite and Kellogg's cereals, after a successful trial.
M&S shares jumped as much as 8.5 percent to a 5-week high of 369.9 pence as analysts lifted full-year forecasts.
"We have had a good start to the third quarter. However, the market remains competitive and, as we come up against volatile trading conditions last year, we remain cautious about the outlook for Christmas and the year ahead," Rose said.
Fashion and homewares group Next posted a 1.3 percent fall in third-quarter sales at stores open at least a year, beating forecasts, and raised its sales and profit guidance for its full financial year.
Its shares jumped 5 percent to 1,900 pence.
A trading update from pubs group JD Wetherspoon (JDW.L) underscored the importance of low prices to attract consumers.
It bucked an industry trend for falling sales with a 0.3 percent rise in outlets open at least a year in the 13 weeks to October 25.
Housebuilders Taylor Wimpey and Redrow both reported an improving housing market, sending their shares up as much as 11 and 6 percent respectively.
(Additional reporting by Matt Scuffham and Lorraine Turner in London and Tresa Sherin Morera in Bangalore; editing by Simon Jessop and Hans Peters)
© Thomson Reuters 2022 All rights reserved.