M&S cuts cloth as conditions for consumer worsen
By James Davey and Mark Potter
LONDON (Reuters) - Marks & Spencer is reining in investment, slashing costs and stepping up promotions amid signs of mounting pressure on consumers as banks tighten lending and house prices fall at the fastest rate for 17 years.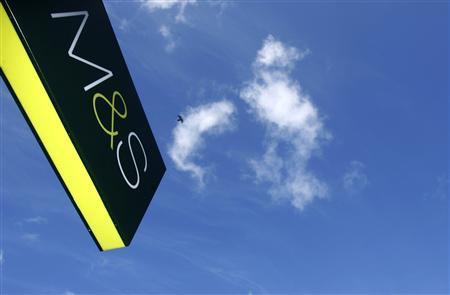 The clothing, food and homewares group posted a 6.1 percent drop in second-quarter core sales on Thursday, its worst performance for over three years, and warned shoppers were "increasingly cautious about their budgets.
But shares in the 114-year-old group, which have plunged over two thirds in value over the past 18 months, jumped as much as 11.3 percent amid hopes the steps being taken will mean profit forecasts will not fall further and its dividend is safe.
"With the worst Christmas for at least 30 years coming up for non-food retailers we wouldn't get carried away," said Pali analyst Nick Bubb. "But the shares have fallen far enough in the short term and M&S is off the hook for the time being."
Shoppers are struggling with higher food and fuel costs, plunging house prices and growing economic uncertainty, and two surveys on Thursday showed conditions are getting worse.
The Nationwide building society said house prices fell 12.4 percent in September on the same time last year, the biggest fall since comparable records began in 1991.
Meanwhile a Bank of England survey showed UK banks expect to tighten up on lending to households and businesses further after credit conditions worsened in the third quarter.
M&S Chairman Stuart Rose urged governments to stabilise the banking system as a first step to restoring consumer confidence.
A cut in UK interest rates at next Thursday's policy meeting would also be "enormously helpful," he said, adding it would be "a brave person to say we're at the bottom" of the downturn.
"A TIME FOR STEADY HANDS"
Marks & Spencer

Like-for-like general merchandise sales, which span clothing and homewares, fell 6.4 percent, while food sales were down 5.9 percent on the same basis.

Rose, who survived a shareholder rebellion in July over his move to combine the roles of chief executive and chairman, admitted mistakes had also been made, in particularly with poor pricing and stock availability in food. But he insisted the firm was addressing these and that he was the right man for the job.

"This is a time for steady hands on the tiller .... tough times require some tough actions and some seasoned old chaps. I think I'm a seasoned old chap," he said. [ID:nWLA0643>

M&S said sales at UK stores open at least a year fell 6.1 percent in the 13 weeks to September 27, broadly in line with analysts' expectations.

The group said it had stepped up promotions in a bid to lure cash-strapped shoppers, which would hit profitability.

But on the day it opened its first shop in mainland China, it also pledged to cut capital spending plans by opening fewer stores than originally planned next near and by slowing down shop refits.

Citi analysts said they expected the market consensus profit forecasts of 690 million pounds for this financial year and 575 million for next year to remain unchanged. Forecasts have come down from over 1 billion pounds at the start of this year.

But, analysts said the jury was still out on whether M&S would have to cut its dividend next year, with Pali's Bubb expecting a cut to 16 pence a share, from 22.5 pence this year.

M&S declined to rule out a cut in the payout for next year. However, finance director Ian Dyson said the lower capital spending would significantly improve the group's cash flow.

M&S shares, which hit a 7-1/2 year low of 191.9 pence on Monday, were up 10.3 percent at 232p by 11:05 a.m. Halfords was up 7.8 percent at 276p and Ted Baker down 4.4 pence at 330p.

(Additional reporting by Rhys Jones, Simon Meads, Christine Fincher and David Clarke; Editing by Greg Mahlich and Jon Loades-Carter)
© Thomson Reuters 2023 All rights reserved.