Lycra launches plus-size range
The fibre and polymer specialist is using the next edition of its trade show 'Lycra Fiber Moves' in order to reveal its newest offering to the legwear market. Named Lycra Xceptionnel, the new line offers hosiery garments for plus size figures.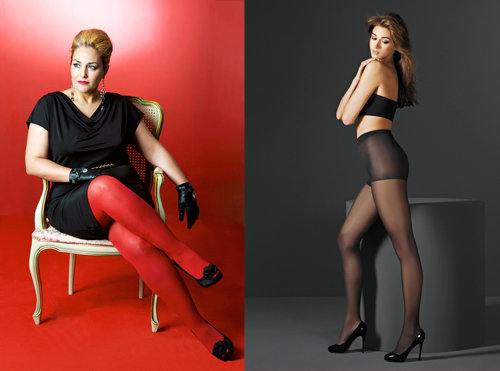 Lycra Xceptionelle (left) and the new Lycra Beauty range (right)
This strategic move by Lycra's owner Invista shows that the fibre giant has certainly stayed on top of its market research. One out of three Americans are currently considered overweight, and that figure is increasing by 2% every year. In Europe, 23% of women would fall into the plus-size category. In fact, the plus-size market has seen an annual growth of 5%. Lycra's new line is aimed at the millions of plus size women worldwide whose hosiery needs are not fully being met.
These consumers are having a hard time finding garments after size 14 that are both elegant and comfortable. Lycra Xceptionnel thus offers a combination of an engineered garment construction and fibre technology which is designed to deliver style and comfort, in particular at the waist and thighs.
In addition to the new plus-size range, Lycra will also be celebrating the development of its Beauty line. Previously dedicated to underwear and swimwear, the line now also offers hosiery and seamless garment. These were designed as part of a new generation of shapewear which has been evolving and will be a key growth driver in Invista's strategy.
Copyright © 2023 FashionNetwork.com All rights reserved.