LVMH set to dazzle with first-half figures
July 26 - LVMH, the world's biggest luxury group, is expected to post sparkling first-half results later on Tuesday in the latest indication the luxury sector has been shielded from global economic concerns.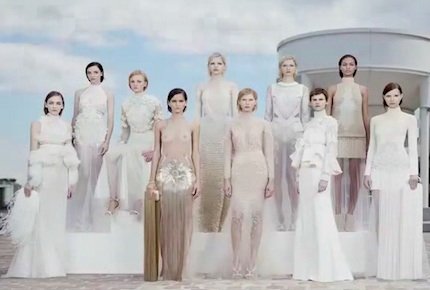 A collection of Givenchy, owned by LVMH
The maker of 1,500-euro Louis Vuitton handbags and 12,000-euro Hublot watches may report a 13 percent rise in second-quarter sales, as demand from emerging markets, Europe and the United States remains strong.
The luxury goods sector has enjoyed a solid rebound since the 2009 spending slump and has been relatively unaffected by worries about the fragile U.S. recovery and debt management in the euro zone.
While purchases of mass consumer goods such as L'Oreal cream and shampoo have slowed in recent months, particularly in the U.S., Latin America and eastern Europe, results from pure luxury brands such as Hermes and Burberry indicate the wealthy are happy to splash out.
LVMH is set to post a 15 percent gain in earnings before interest and tax (EBIT) to 2.1 billion euros (1.84 billion pounds). Revenue is seen 13 percent higher at 10.2 billion euros, based on a Reuters poll of 10 analysts.
On an organic basis, the rise may be a slightly smaller 12.5 percent.
Analysts will been keen to grill management on margins, which should have been boosted by price increases, as well as on the group's acquisition strategy after buying Roman jeweller Bulgari this year.
In particular, LVMH is likely to be questioned about its intentions regarding Hermes, in which it has built up a stake of more than 20 percent.
PPR, another LVMH rival which owns several luxury brands including Gucci, Yves Saint Laurent and Balenciaga, is set to report first-half figures on Friday.

(Reporting by Astrid Wendlandt and Pascale Denis; Editing by David Hulmes)
© Thomson Reuters 2023 All rights reserved.