LVMH looks to burnish Vuitton mystique and buoy sales
PARIS - French luxury giant LVMH is struggling to retain its image as exclusive and high-end creators of $10,000 alligator handbags and goat-lined fur coats, while opening enough stores and reaching enough customers to keep profits high.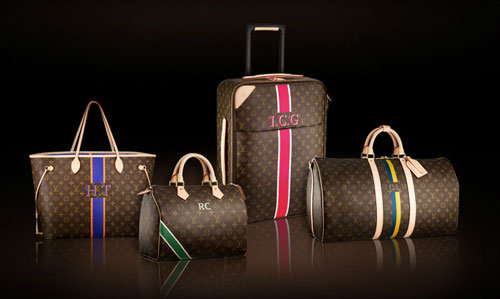 Louis Vuitton's personalised monogram bags / Photo: Louis Vuitton
Thus far LVMH has managed the balance well, but it is taking no chances, offering customers inceasingly expensive and bespoke services in an effort to retain a high-end mystique around brands in danger of becoming ubiquitous.
LVMH is taking particular care to protect the image of Louis Vuitton, the group's signature brand, which accounts for 45 percent of operating profit, and has boasted double digit percentage growth through the financial crisis.
It is the company's cash cow - with estimated revenues of 6.5 billion euros - and analysts estimate that if handled well, Louis Vuitton could see its sales nearly double within seven years, with much of the growth coming from Asia.
"LVMH remains very conscious of the risk that its bags, tied to the relative accessiblity of the monogrammed bags, might become too common," said Serge Carrieria, a specialist in luxury brands and professor at the French university L'Institut d'Etudes Politiques de Paris.
Louis Vuitton's revenues are almost double those of rival luxury goods group PPR's Gucci, widely considered its closest French competitor.
THE HERMES MODEL
The company is trying to counter the image that the Louis Vuitton monogram is both too common and easily copied by offering certain customers bespoke leather bags that cost two or three times more than the standard 800 euro Louis Vuitton bag.
In this LVMH is taking a page from Hermes, the family run luxury concern that boasts 30 percent operating margins and in which LVMH recently took a 22 percent stake.
Hermes retains an aura of rare exclusivity by maintaining long waiting lists for some items, like its 4,000 euro Kelly bag, and charging up to 100,000 euros for a snakeskin coat.
Much of Hermes's leather goods are still handmade, allowing the company to charge eye-popping prices for even small items such as wallets and key rings.
At Louis Vuitton, customers can choose from 26 patterns and eight different animal skin colors for the leather goods they want. Artisans in a suburb of Paris will produce the product in four to six weeks and guarantee that few if any replicas will be produced.
Such bespoke items can cost anywhere from 5,000 euros to several times that, and customers are encouraged to feel that they are not just buying a luxury object, but participating in the creation of a brand's image.
"In all the Louis Vuitton stores the buying experience is incredible. Even if you buy a bag for 600 euros everything is done to give you the feeling of acquiring an exceptional product," said one analyst who requested anonymity.
A SLOW ROLLOUT
But while LVMH tries to burnish the image around its products, an iron hand over the distribution network allows it to not only control margins but make sure that its marketing decisions are adhered to.
In order to protect the sense of timelessness around the brands, LVMH does not allow Louis Vuitton items to go on sale, a move that would be more difficult for PPR, which does not control its distribution network to the same extent.
LVMH is also careful about the roll-out of new stores - none were opened in 2011 - aware that the brand would suffer from too much visibility. At the same time, Louis Vuitton, which now has 461 stores in 50 countries, favours increasing floor size at existing stores.
It is also gradually rolling out well-located megastores exceeding 1,000 square feet. Another sign of the tension between the brand's mass-market appeal and the necessity of preserving its up-market appeal.
The stores, located in high traffic areas such as the Champs Elysee in Paris, Bond Street in London and 5th Avenue in New York, can carry pricey rents, but customers are given the full-on Louis Vuitton experience from clothes to bags to the smaller leather goods which are extremely profitable.
LVMH believes so strongly in the concept of megastores that it plans to open another six stores exceeding 1,000 square feet to add to the 14 that exist.
"They focus on offering their products in increasingly large shops," said another analyst who requested anonymity. "This optimizes the network and maximizes sales per square metre."
Even as the megastores lure thousands, they minister to their favoured customers in separate "salons" that offer the luxurious custom bags that the tourists and curiosity seekers who flock to the stores can only dream of.
© Thomson Reuters 2023 All rights reserved.