Luxottica Unveils Future of Retailing at Revolutionary New Concept Store
MILAN and MELBOURNE, Australia, July 20 /PRNewswire-FirstCall/ -- Luxottica Group S.p.A. (MTA: LUX; NYSE: LUX), a global leader in the design, manufacture and distribution of fashion, luxury and sports eyewear, on Tuesday introduced shoppers to the Future of Retailing with the launch of a world-first global retail concept store unveiled in Australia's fashion capital, Melbourne.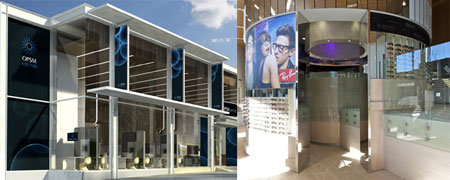 Image of OPSM Concept Store in Melbourne
Tuesday's opening of the first OPSM eye hub store marks the debut of a retail outlet where every customer dictates and personalizes their own shopping experience.
Designed by international award-winning architects E2, also the designers of London's landmark Millennium Dome, the revolutionary store concept has been designed to place the customer at the centre of the store experience.
Luxottica Group's CEO Andrea Guerra said the company's long-term goal is for this concept to be adapted globally. There are plans for more stores in Australia to debut in the next two to three years, and additional stores could in the future be opened in key markets such as China, the UK and the United States.
With a simulator room for testing glasses and sunglasses for glare and wind resistance, a product vault featuring stunning and exclusive designer glasses visible from every area of the store, touch-screen interactive mirrors that allow people to play back their new look, a secure play place where parents can leave their kids while they shop, the concept store reflects the next generation in experiential shopping.
Luxottica conducted extensive customer research and spent two years planning, continuing its commitment to innovation and high technical and stylistic quality to ensure customer well-being and satisfaction.
Chris Beer, CEO, Luxottica, Australasia, South Africa & Greater China, added: "Typically retailers tell the customer what's going to happen when they walk in the store. This first-of-its-kind concept relies on the customers dictating their own shopping experience, including telling a concierge meeting them at the door how they want to shop and what they want to spend time on. The best thing about this store is that it will be a unique experience for each customer."
International retail futurist Ian Pearson, who invented text messaging while working as British Telecom's full-time futurist until 2008, believes there will be a significant shift in how retailers engage with customers to compel them to physically visit a store. With customers placing increasing value on their time, stores must invest reciprocal time preparing for and serving the customer – what Pearson calls the "care economy."
© Thomson Reuters 2023 All rights reserved.