Luxottica hikes dividend on market boost
MILAN - Italy's Luxottica, the world's biggest eyewear maker, raised its cash dividend and said it expected a "successful" 2012 after growth in Latin America and at its premium brands helped full-year profits grow by a third.
The 51-year-old maker of Ray-Ban and Oakley sunglasses said on Tuesday sales in January and February grew by double digits, confirming demand for its premium eyewear was strong across all regions despite weaker consumer spending in crisis-hit Europe.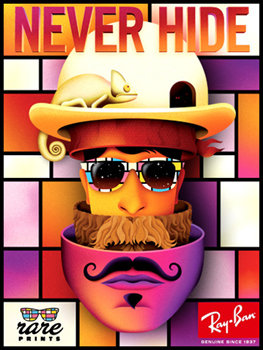 Ray-Ban's glasses are Luxottica made. Image: Ray-Ban
The group confirmed the resilience of top luxury makers to downturns when it posted a 31 percent rise in fourth-quarter adjusted net profit to 72.7 million euros, beating a Thomson Reuters Starmine forecast.
Following its policy of raising dividends, the group said it would pay shareholders a dividend of 0.49 euro per share for 2011, up 11.4 percent.
The maker of eyewear for luxury brands such as Prada and Burberry enjoyed positive sales growth across all markets last year, especially in Latin America where it has completed a string of acquisitions.
"I believe that 2012 looks to be another successful year and, if we continue to be resolute and at the same time simple and fast, we will continue the trends exhibited during 2011", Chief Executive Andrea Guerra said, echoing top luxury makers such as LVMH and Salvatore Ferragamo.
Luxottica said it expected 2012 sales to grow by between 4 and 6 percent in western Europe, and by 5-7 percent in North America, where it sells around 60 percent of its products. Sales in emerging markets are seen up by a third this year.
Fourth-quarter net sales grew across all regions to 1.51 billion euros, up 12.1 percent at current exchange rates.
The board also approved the issuance of senior long-term bonds to institutional investors for up to 500 million euros by the end of 2012.
It said it aimed to cut debt this year, after reducing it by 3.7 percent to around 2 billion euros at the end of 2011. (Reporting by Antonella Ciancio and Sabina Suzzi; Editing by Helen Massy-Beresford)
© Thomson Reuters 2023 All rights reserved.