Luxottica eyewear gets boost from Asia, Brazil
MILAN - Italy's Luxottica, the world's largest premium eyewear maker, said sales in the first quarter rose 14.9 percent from a year ago, buoyed by dazzling sales in emerging markets such as Brazil, India and East Asia.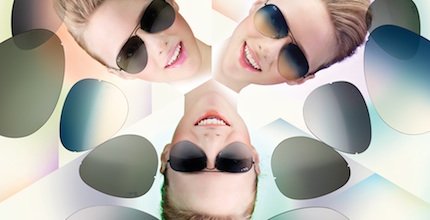 Ray-Ban glasses
The Milan-based company, which makes Ray-Ban and Oakley sunglasses, said net sales reached 1.79 billion euros ($2.35 billion) in the quarter, beating a mean I/B/E/S estimate of 1.77 billion euros based on the forecasts of 18 analysts.
"The results achieved in the first quarter of the year are an excellent foundation for the rest of 2012," Chief Executive Andrea Guerra said in a statement on Monday.
Many of the markets in which Luxottica operates are in good shape, despite the difficult environment in the Mediterranean Europe area.
Illustrating the group's strong pricing power, Guerra said in a conference call with analysts that Luxottica had managed to raise prices on its Ray-Ban glasses, even in crisis-hit Southern Europe.
Earlier this year, Guerra told Reuters that he expected profits to grow twice as fast as sales this year, which in turn were expected to rise by a high single-digit percentage.
Luxottica's sales were helped by last year's acquisitions of Brazil's Tecnol and Multiopticas International, which lifted revenue by about 40 million euros, the group said.
Overall, sales in Brazil and India climbed some 40 percent, it said. In the United States, where Luxottica owns the Sunglass Hut retail chain, sales were up 8.5 percent.
The strong results - which Luxottica dubbed the best first-quarter in its history - contrasted with those of its smaller local rival Safilo, which reported a 4 percent decline in net sales earlier this month.
Luxottica was partly to blame for its competitor's woes, as Safilo lost its contract to make Armani-branded eyewear to Guerra's group last November.
Margins rose to 19.3 percent in the first three months of the year, compared to an 18.2 percent core earnings margin in the first quarter of 2011.
Luxottica's results came on the day Italian luxury trade body Altagamma said it expected the global luxury goods market to reach a record 200 billion euros this year, a 6-7 percent rise from last year, but slower than the 10 percent posted in 2011.
"Apart from Spain, Italy and Japan, the luxury goods market is growing significantly everywhere in the world," Armando Branchini, the head of Altagamma told reporters at an event in Milan on Monday.
Shares in Luxottica have risen by about a third since the beginning of the year, outperforming a 13 percent rise in the wider European household goods sector year-to-date.
($1 = 0.7625 euros) (Additional reporting by Sabina Suzzi; editing by M.D. Golan)
Tweet this
Link this
Share this
Digg this
Email
Reprints
© Thomson Reuters 2023 All rights reserved.