Lululemon eyes $1 billion in revenue
June 28 - Lululemon Athletica Inc is not feeling threatened by new premium yoga lines from big-name sportswear manufacturers such as Nike and Adidas, despite worries that competition might cut into its phenomenal growth curve.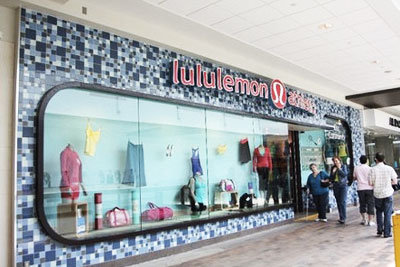 Lululemon store front in Kingsway, USA
The Vancouver-based yogawear retailer expects to hit $1 billion in revenue during fiscal 2012, as productivity at its U.S. stores, once a cause for concern among investors, climbs closer to that seen in its highly profitable Canadian outlets.
While Lululemon's sales have soared along with its share price, investors have been concerned that competition might start to slow its ascent.
"We're not feeling it or seeing it on a global basis or even store by store," Chief Financial Officer John Currie told the Reuters Global Consumer and Retail Summit on Monday, when the stock hit an all-time high.
"But you know, it's a competitive marketplace. So, the next competitor ... we have to worry about them just like we do about Nike and Adidas."
Lululemon's Nasdaq-listed shares closed up 4 percent at $108.58 on Monday, after hitting their highest level since the company went public in 2007. The stock closed up C$4.29 at C$107. 24 in Toronto.
The company's fiscal 2012 ends in January 2013.
Lululemon has seen an improvement in its store productivity in the United States in recent months, said Currie, reaching $1100 to $1200 per square foot, well above its targets when it entered the U.S. market.
"We're seeing crazy improvement in the U.S.," said Currie.
The company is also looking to expand online, where it is replacing a basic outsourced site with an improved, in-house system.
"Even without adding bells and whistles and functionality, it's generating about 10 percent of our revenue and we see that going higher," said Currie.
While Lululemon remains focused on yoga, it has experimented with lines for other activities, including swimming, cycling and hiking.
Sheree Waterson, chief product officer, doesn't see the diversification as a distraction.
"Yoga is our access to all sports," she said, adding that shoppers have responded particularly well to the company's running gear.
Lululemon's men's line is also expanding. In the fourth quarter of 2010, men's items accounted for 13.7 percent of sales, the highest level ever, John Currie said.
"We try to allocate 18 to 20 percent of the floor space to men's and we believe that it has the ability to grow into that. I don't think we want to take it further because we're women's focused," Currie said.
(Reporting by S. John Tilak, Allison Martell in Toronto, Jessica Wohl and Phil Wahba in New York)
© Thomson Reuters 2023 All rights reserved.