London Fashion Week steeped in 60s and Kate-mania
LONDON (Reuters) - Over-sized boyfriend cardigans, vibrantly colored knits, 1960s-inspired collections and speculation over who is making Kate Middleton's wedding dress set the autumn/winter 2011 tone at London Fashion Week.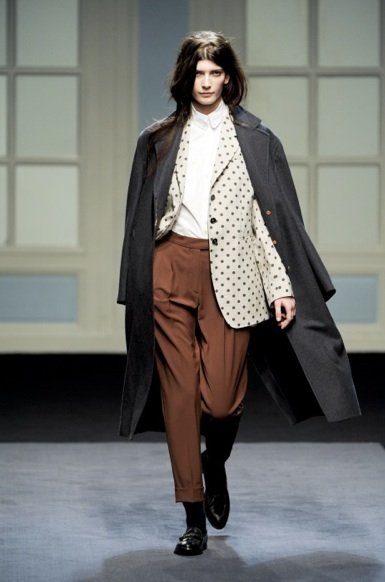 Paul Smith - AW 2011-12 / Photo : Pixel Formula
Veteran London designer Paul Smith said he went back to his menswear roots for his latest women's collection, showing an updated Annie Hall-like style twinning oversized coats and cardigans with sharply cut trousers that ended above the ankles.
"I'd been designing clothes for men for many years, and when I started designing clothes for women, it was the girls buying the boys' clothes basically, a jacket, a shirt, a raincoat, a big sweater," Smith told Reuters.
"And people have been asking me, we need that DNA back."
He said he didn't know who was designing Middleton's dress for her April 29 wedding to Britain's Prince William, but that the future royal's good looks and easy grace won't make the burden of being in the media spotlight any easier for her.
"Talking about Kate, she's a good-looking woman. Whether she'll have the same style icon image as Lady Di I'm not sure but certainly she's got a tough job ahead of her," he said.
London's grande dame of the designer set, Vivienne Westwood produced a Wonderland-themed collection for her diffusion Red Label autumn/winter 2011 collection which mixed vibrant plaids with earth-toned cardigans, suits with dramatically cut jackets and shorts cut mid-thigh, alongside some glittering glam pieces.
Westwood told reporters she was most definitely not designing Middleton's dress and that the commoner who may one day be a queen had some way to go before she was Westwood-ready.
"I would have loved to have dressed Kate Middleton but I have to wait until she kind of catches up a bit somewhere with style," Westwood told reporters.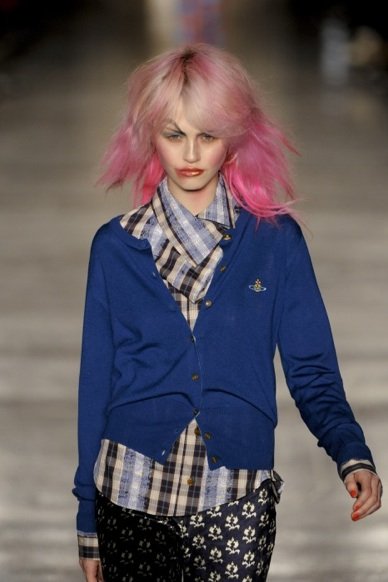 Vivienne Westwood - AW 2011-12 / Photo : Pixel Formula
Brazilian-born Daniella Issa Helayel, whose blue gown Middleton wore when she and William announced their engagement, offered a hip 1960s-inspired show of bright reds, muted greys and blues, floor length gowns, short dresses, a princess dress-coat and a jumpsuit with a silver double helix pattern.
She declined to offer an opinion on who might be designing Middleton's wedding dress and said the choice of Issa for the engagement dress came as a bolt out of the blue.
"I'm very flattered at all the attention and I think one of the reasons you're here now is because of that," she told Reuters. "So it's all been very good, amazing, no complaints."
ROCK ROYALTY
The swinging '60s also featured as a theme for British luxury retailers Mulberry and Burberry, which streamed its Prorsum catwalk show live in its shops around the world and on a billboard overlooking London's Piccadilly Circus.
"I think fashion has become entertainment, whether you're streaming live to Piccadilly Circus, whether it's the audience here live or whether I'm on a computer somewhere in the world," Burberry chief creative director Christopher Bailey said.
Bailey told Reuters the latest Burberry collection was inspired by the 1960s penchant for matching coats with bags.
"We were looking at these wonderful old pictures of Jean Shrimpton in an old Burberry ad campaign and it got me thinking of the early Sixties period," he said.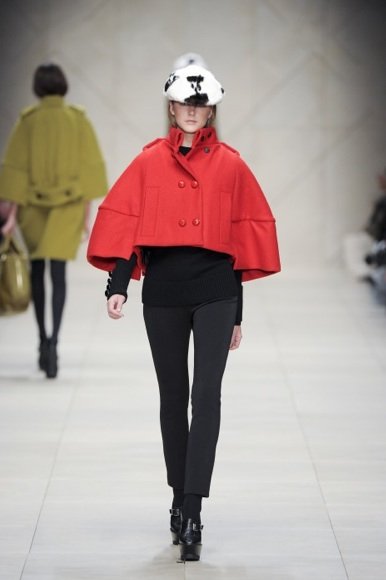 Burberry Prorsum - AW 2011-12 / Photo : Pixel Formula
Julien Macdonald mixed Celtic heritage with rock n' roll chic for an audience peppered with rock royalty's ex-wives.
Style.com described the collection as one for a goth-inclined, rock concert-attending lass and said Macdonald was treading in territory "that was famously and exquisitely trod by the late Alexander McQueen."
U.S. Vogue editor Anna Wintour, at a tribute to the late McQueen, said she expected designer Sarah Burton to carry his label forward after the designer killed himself last year. Burton worked with McQueen for many years and has already shown one collection for the label.
"She's going to put her own stamp on McQueen but also be very respectful of his vocabulary," Wintour said.
© Thomson Reuters 2022 All rights reserved.