Liz Claiborne's lean look yields surprise profit
Liz Claiborne Inc's (LIZ.N) new streamlined model helped the company post an adjusted quarterly profit, as the owner of the Juicy Couture, kate spade and Lucky Brands revamps itself to cut debt and focus on its core brands.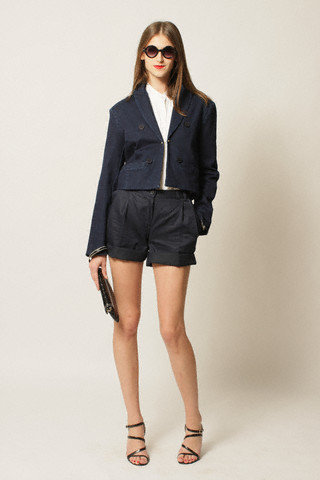 Liz Claiborne Spring-Summer collection / Photo: Corbis
The New York-based company has sold, licensed, or closed a bunch of underperforming brands in recent years to switch its attention to its own retail stores.
In September, it sold its global Mexx business and in the next month, the company said it was selling its Liz Claiborne and Monet brands to J.C. Penney Co Inc (JCP.N) for $267.5 million.
Completed transactions were generating $471 million in cash proceeds since August, Liz Claiborne said.
October direct-to-consumer comparable sales were in line overall with the company's expectations as it heads into the Holiday season, Chief Executive William McComb said.
Gross profit margins at the company rose to 53.7 percent from 50 percent last year, as it made money from licensing its namesake brand to JC Penney and sold more products at its high-margin direct brands segment.
For the third quarter, the company earned $2 million, or 2 cents a share from continuing operations, compared with a loss from continuing operations of $42 million, or 45 cents per share, last year.
On an adjusted basis, it earned 5 cents a share from continuing operations, while analysts on average had expected a loss of 5 cents, according to Thomson Reuters I/B/E/S.
Sales fell 9.1 percent to $398 million. However, excluding the impact of a $31 million decline in net sales of brands that have been licensed or exited, sales decreased 1.9 percent, the company said.
Liz Claiborne shares closed at $8.37 on Tuesday on the New York Stock Exchange. (Reporting by Nivedita Bhattacharjee in Bangalore; Editing by Gopakumar Warrier)
© Thomson Reuters 2023 All rights reserved.