Li Ning says January and February store sales up, third quarter orders grows
HONG KONG, March 18 (Reuters) - Chinese sportswear brand Li Ning Co Ltd (2331.HK) said its same stores sales grew 6.5 percent in first two months of 2010 and it aims to achieve 10 percent growth for whole of 2010 as the sports goods industry continues to recover.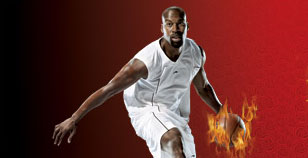 Li Ning Sports
Tracking a 11.6 percent rise in orders from distributors for the first quarter and a rise of 15.4 percent for the second quarter in value terms, orders for the third quarter were expected to grow 20 percent, chief financial officer Nicholas Chong told reporters on Thursday 18 March.
Chong said the company aimed to maintain a gross profit margin of 47-48 percent in 2010, against 47.23 percent in 2009, and to keep advertising and promotions expenses at 15.5-16.5 percent of revenue, compared with 15.4 percent last year.
"Recovery (for the industry) was noted since the third and fourth quarters (of last year) and we saw an obvious recovery during the spring festival (Lunar New Year)," said Chief Executive Zhiyong Zhang. "We estimate the overall (sports goods) market grew 11.1 percent last year. This year, growth could reach 16 percent."
"In the next three years, if we see no further economic crisis, we will be even more optimistic and growth could be more than 20 percent," Zhang said. "We also expect to more intense competition among brands."
"The key is product innovation to satisfy customer appetites," he added.
Zhang said Li Ning would not reduce product prices in the face of competition, but would focus on developing innovative and value-added products. He noted that the market for low-priced products was shrinking while demand for higher-end products was rising.
He said the company aimed to have 8,000 outlets by the end of 2010 after a 6.5 percent increase to 7,249 in 2009. By 2013, the company targeted a network of 10,000 stores with a focus on expanding in lower-tiers cities.
Li Ning, which distributes sports products under Italian brand Lotto Sport and Z-DO brand, and has the exclusive right to sell French brand AIGLE products in China, on Wednesday 17 March posted a forecast-beating 31 percent jump in 2009 net profit to HK$944.52 million.
Shares in the company rose 3.2 percent to a 10-week high of HK$27.80 before closing at HK$27.55, up 2.4 percent, outperforming a 0.25 percent fall in the broader Hang Seng Index .HSI. (US$1=HK$7.76)
© Thomson Reuters 2023 All rights reserved.