Li & Fung posts record H1 net, up 55%
HONG KONG, Aug 12 (Reuters) - Consumer goods exporter Li & Fung Ltd (0494.HK) posted a 55 percent rise in first-half profit, its best growth in a more than a decade, but said meeting sales and profit targets set in a three-year plan ending this year will be challenging because of the global downturn.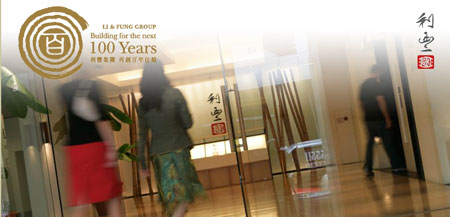 Li & Fung
The company, which manages supply chains for retailers including Wal-Mart Stores Inc (WMT.N) and Target Corp (TGT.N), has been positive on its growth in 2010, banking on a recovery in United States, which accounts for more than 75 percent of its revenue.
"The continued growth of our higher-margin onshore business in the United States and Europe, disciplined cost control and an increased number of value-added services helped deliver solid operating leverage," said Chairman Victor Fung in a statement to the Hong Kong stock exchange.
That resulted in the highest core operating profit growth over a half-year period, he added.
Li & Fung, which also supplies Japan's largest retailer Seven & I Holdings Co Ltd (3382.T), posted a record first-half net profit of HK$2.17 billion ($279.5 million), surpassing its previous record of HK$1.4 billion in the same period of 2009, beating an average forecast of HK$2.0 billion from six analysts polled by Reuters.
This was biggest first half profit growth in more than a decade and against a 52 percent rise in interim profit in 2000.
Li & Fung supplies customers with consumer products from fashion and furnishings to household products and sporting goods.
The company said it would be a challenge to meet its turnover target of $20 billion and core operating profit target of $1 billion per year set in 2007 as part of a three-year plan ending 2010, because of the global recession.
But acquisitions and a return of consumer demand could underpin the company's bullish outlook for 2010, it said.
Li & Fung's core operating profit also rose 55 percent to a half-year record of HK$2.64 billion for the six months ended June.
Earlier this year, it secured a $2 billion sourcing agreement to supply Wal-Mart (WMT.N) and a deal to buy British private label apparel supplier Visage Group.
It also signed three acquisition deals for initial cash of $140 million in the last two months to strengthen its health and beauty, and fashion accessories businesses, bringing the number of new deals signed in the past few months to seven.
The company said on Thursday that it planned to buy U.S. footwear designer and distributor Jimlar Corp for an unspecified amount.
Shares of Li & Fung were up 5 percent on Monday, prior to a suspension on Tuesday relating to the privatisation of its sister company Integrated Distribution Services Group Ltd (2387.HK).
They have gained 17 percent this year, beating a 3.5 percent fall in the broader Hang Seng Index .HSI. (US$1=HK$7.77)
(Reporting by Donny Kwok; Editing by Valerie Lee and Chris Lewis)
© Thomson Reuters 2023 All rights reserved.