Li & Fung exporter signs new deals, shares up 3.7 pct
July 9 (Reuters) - Consumer goods exporter Li & Fung Ltd (0494.HK) said it signed three acquisition deals for initial cash of $140 million in the last two months to strengthen its health and beauty, and fashion accessories businesses.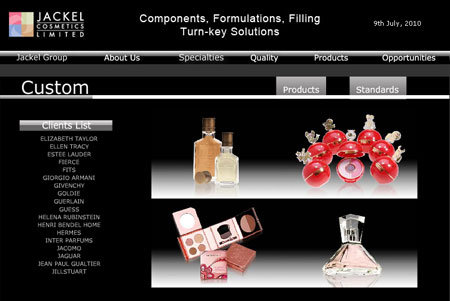 www.jackelgroup.com
That brought the number of new deals signed by the company in the past few months to seven, including four licensing deals, the company said in a statement late on Thursday.
Li & Fung shares were up 3.7 percent shortly after the market opened on Friday, outperforming a 0.4 percent gain by the blue-chip Hang Seng Index (HSI).
Management expected the deals together to bring in more than $1 billion in revenue in 2011, although any contribution would be limited in 2010, analysts said.
"These deals provide a strong start for the next three-year plan and are good boosts to Li & Fung's capabilities in HBC (health, beauty and cosmetics), denim and accessories," Morgan Stanley said in a research note. "The pipeline for more deals remains strong."
Li & Fung said it bought two Hong Kong-based companies, Jackel Group that serves the HBC sector, and HTP Group, a jeanswear specialist.
It also acquired assets of U.S. designer and distributor of fashion accessories, Cipriani Accessories Inc and its affiliate, the Max Leather Group.
The company earlier this year signed four licensing deals with Rachel Zeo, TapouT, Star Branding and Sean John.
(Reporting by Alison Leung; Editing by Chris Lewis)
© Thomson Reuters 2023 All rights reserved.