Levi Strauss buying stores from Anchor Blue
SAN FRANCISCO (Reuters) - Levi Strauss & Co (LEVST.UL) said on Wednesday 27 May it agreed to buy the operating rights to 73 Levi's and Dockers Outlet stores operated by Anchor Blue Retail Group Inc, which is filing for bankruptcy.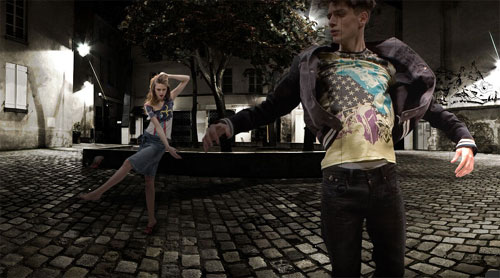 Levi's Red Tab Collection - Spring/Summer 2009
Anchor Blue and its subsidiaries have asked the court to allow the sale. They cited the U.S. recession, saying the slowdown has severely affected its key market of California and eroded profitability.
Levi Strauss, the San Francisco-based jeans giant, said the proposed deal would be a "profitable growth opportunity" for the company.
"We believe that this transaction will strengthen our ability to manage our brands' positioning effectively in the outlet channel," said Robert Hanson, president of Levi Strauss Americas.
Other retailers have been snapping up competitors' stores as the economic slowdown has prompted a rash of bankruptcies. Kohl's Corp (KSS.N) said in December it would take over 31 Mervyn's locations after the mid-tier department store chain closed down.
"When we have seen other bankruptcies, it usually means that the survivors can pick up market share," said Patricia Edwards, a retail analyst with Storehouse Partners. "There will be benefits for retailers who can survive as the weaker parts of the herd get culled."
SALE
Anchor Blue Retail Group, which filed for bankruptcy in the U.S. Bankruptcy Court for the District of Delaware, is the holding company for two subsidiaries.
The company's MOST Division is an outlet store retailer that holds the exclusive U.S. license for Levi's Outlet & Dockers Outlet Stores. The unit operates 74 stores across the United States, most of which Levi's is seeking to buy.
The company's other division, Anchor Blue, sells casual apparel and accessories for teens and has 177 stores in 12 states.
Most stores will be open for business as usual, though the company said it plans to close about 50 underperforming stores in nine U.S. states, the bulk of which are in California and Florida.
"The unprecedented sustained economic downturn and a related drop in consumer spending, especially in the teenage market, have had a severe impact on our financial performance," said Anchor Blue Chief Executive Thomas Sands, in a statement.
The company said it secured $20 million in debtor-in-possession financing from Wachovia Capital Finance to help fund operations during the reorganization.
The sale of the Levi's & Dockers Outlet is expected to close later this summer.
Sun Capital Partners Inc bought Anchor Blue Retail Group in 2003. Two years later, Sun Capital and Anchor Blue completed a leverage recapitalization and sold a minority equity stake to Ares Management LLC.
As of May 23, the company had more than 2,800 employees.
The case is In re Anchor Blue Retail Group Inc, US Bankruptcy Court, District of Delaware, No. 09-11770.
(Reporting by Alexandria Sage, additional reporting by Chelsea Emery in New York; editing by Andre Grenon, Matthew Lewis)
© Thomson Reuters 2023 All rights reserved.