L'Oreal in talks to take Armani stake: report
MILAN (Reuters) - Italian designer Giorgio Armani's fashion group is in talks with L'Oreal about the French cosmetics company possibly taking a stake in it, Milano Finanza reported on Saturday.
One option apparently being discussed is for L'Oreal to take a roughly 25 percent holding, with a put and call option for a further stake, the business daily said in an unsourced story.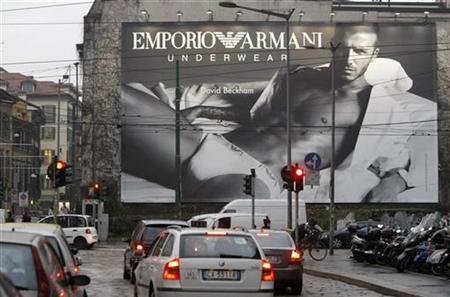 A Giorgio Armani spokesman denied the report, saying, "There has been ongoing speculation about L'Oreal and others and no talks are going on at the moment."
A L'Oreal spokesman was not immediately available to comment.
The Armani group had sales of about 2 billion euros ($3.04 billion) in 2006, Milano Finanza reported.
L'Oreal holds a long-term license for the production and distribution of fragrances, cosmetics and beauty products under the Armani name.
Armani, 73, mentioned L'Oreal as a possible partner in a Reuters interview in November, but said at the time there were no talks under way.
(Reporting by Ian Simpson, Editing by Peter Blackburn)
© Thomson Reuters 2023 All rights reserved.