L'Oreal heiress to regularise taxes after media leak
PARIS, June 21 (Reuters) - France's richest woman Liliane Bettencourt said she would work with tax authorities to regularise her overseas assets after allegations over her fiscal situation were published, embroiling a key cabinet minister and his wife.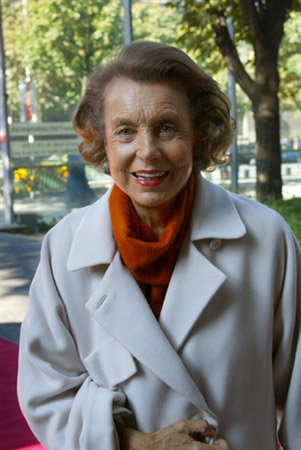 Liliane Bettencourt
Photo : Martin Bureau/AFP
Secret recordings made by Bettencourt's ex-butler were leaked last week and have appeared widely across the media.
French newspapers said one of the conversations referred to holdings in the Seychelles and Switzerland, with an adviser telling Bettencourt to move them to other locations.
"The illicit and odious recordings that expose my private life and could affect all of my staff and boards, will not prevent me from continuing to manage my personal affairs," 87-year-old Bettencourt said in a statement.
In two weeks, a trial begins between Bettencourt's daughter, who says her mother can no longer manage her fortune, and a French photographer who stands accused of extorting gifts worth 1 billion euros ($1.5 billion) from the aged heiress.
Bettencourt said she would work with French tax authorities to "regularise all family assets still abroad", adding that in the last 10 years she had paid 400 million euros in taxes.
"I hope these sums show that my family has always amply met its obligations," she said.
Bettencourt is the biggest shareholder in cosmetics giant L'Oreal, founded by her father. Her fortune was estimated at $13.4 billion by Forbes, making her the richest woman in Europe and the 21st richest person in the world.
The matter also threatens to sidetrack the government at a time when it is trying to build public support for its pension reform before nationwide strikes set for June 24.
POLITCAL STORM
Newspapers say the recordings contain references to party campaign payments to two ministers, including Labour Minister Eric Woerth, who is in charge of overhauling France's pension system.
Woerth's wife Florence works at the firm that manages Bettencourt's huge financial affairs.
Woerth denied any wrongdoing earlier on Monday.
"Do I look like somebody who hides tax fraud?" Woerth said in response to questions about his role and that of his wife Florence. "(I have) never been involved in one way or another, directly or indirectly in the tax affairs of Mrs Bettencourt," Woerth said on LCI television.
Woerth, who won plaudits for his steady manner and launched a campaign against tax havens in his previous position, is spearheading the contested reform of the pension system and last week unveiled plans to raise the retirement age and increase taxes to help salvage the nation's indebted finances.
He told reporters late on Monday his wife had been seeking to leave her position for two years and the latest events would hasten her resignation "in the coming days".
In a statement, Communist lawmakers said that the Labour Minister should stand down after the departure of his wife.
"This announcement comes after media revelations that are more than worrying. The events described are particularly severe. The Prime Minister, Francois Fillon, has to learn from it and ask his Labour Minister to leave the public domain, " the statement said.
Former anti-graft magistrate and ecologist European Member of Parliament Eva Joly also said Woerth should resign, saying it was an "incredible contradiction of interests in relation to his alleged fight against tax havens".
-- Additional reporting by Elisabeth Pineau and Gerard Bon
© Thomson Reuters 2023 All rights reserved.