L'Oreal first half beats forecasts, ready to make purchase
PARIS, Aug 28 (Reuters) - L'Oreal (OREP.PA) shares jumped on Friday 28 August after the world's biggest beauty products group posted forecast-beating first-half profits and said it believed the worst of retailers' order trimming of luxury products was over.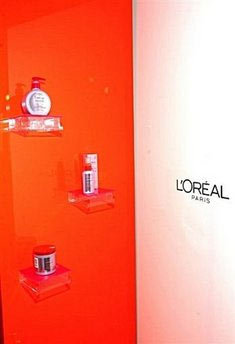 Photo: AFP/Getty Images/File/Kevin Parry
L'Oreal Chief Executive Jean-Paul Agon also said the group was ready to make a strategic acquisition but had not yet identified a target.
"There is nothing really on the market in terms of potential acquisitions but ... we are really ready to make a strategic acquisition if it presents itself," Agon told shareholders at the group's results presentation.
The shares, which had gained 12 percent since Jan. 1, were up 6.3 percent at 68.75 euros at 0955 GMT, among the top gainers in Europe.
Late on Thursday 27 August, the maker of Biotherm and Lancome creams posted a smaller-than-expected 8.3 percent drop in first-half profit to 1.37 billion euros, beating the average forecast of 1.29 billion in a Reuters poll of analysts.
"Perhaps management has become more cost-conscious than we had given them credit for?" Citi wrote in a note.
Agon said the benefits of cost-cutting would be more notable in the second half. Sellling, general and administrative expenses fell 3.1 percent during the first six months of the year.
In February, the Paris-based group introduced its first hiring freeze since 1974 and said it had cut 500 jobs in the United States. At the time, it also said it would try to keep margins stable this year.
However, the group saw its first-half operating margin slip to 15.7 percent from 17.3 percent at the end of June 2008, in part because L'Oreal kept advertising and research expenses high even though sales declined during the period.
The operating margin of luxury products fell to 11.9 percent from 19.6 percent, a drop Agon blamed on "brutal order cuts by distributors".
"We think that the bulk of destocking is behind us," he said during the news conference.
Earlier this month, U.S. rivals Estee Lauder (EL.N) and Elizabeth Arden (RDEN.O) forecast weaker-than-expected 2010 profits as they expect women to keep their purse strings tight until they see tangible signs of economic recovery.
Agon repeated that he expected the world cosmetics market to be slightly up this year against 2008 even though it estimated it fell between 1 and 2 percent in the first half to June.
He also said it was too early to start buying back shares again. (Reporting by Astrid Wendlandt; editing by Will Waterman and Karen Foster)
© Thomson Reuters 2022 All rights reserved.