Kohl's raises profit forecast, sees sales gains
August 11 - Kohl's Corp raised its full-year profit forecast, saying its portfolio of merchandise that only it sells has protected its gross margin, and the retailer forecast further sales gains, sending its shares up 7 percent in early trading.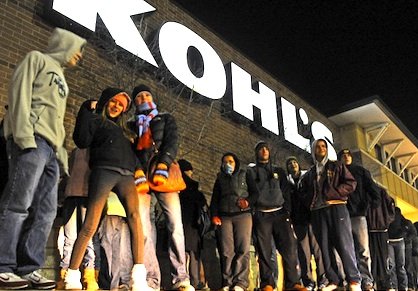 A Kohl's department store in Glenview, Illinois, USA - photo: corbis
The department store chain expects same-store sales, or sales at stores open at least a year, to rise 2 percent to 4 percent in the current quarter.
Kohl's, with customers who are middle class but typically less affluent than those of rival Macy's Inc, said gross margins have been lifted, despite rising cotton costs, by its efforts to offer shoppers items they can't find elsewhere, particularly its celebrity clothing lines.
The company's roster of exclusives includes Simply Vera Wang and will be expanded next month to include lines by performers Jennifer Lopez and Marc Anthony.
In recent years, Kohl's and its competitors have been in a race to offer more exclusive merchandise to differentiate themselves and gain more ability to price those items as they see fit. About half of Kohl's sales now come from those lines.
Kohl's, which operates nearly 1,100 department stores, raised its full-year earnings per share forecast for fiscal 2011 by 20 cents, to a range of $4.45 to $4.60, above analysts' average forecast of $4.40.
On Wednesday, Macy's and Polo Ralph Lauren also raised their sales outlooks.
Kohl's shares rose $3.12 to $47.41 in early trading.
RESILIENT MARGINS
Kohl's forecast gross margin would be steady in the current quarter, suggesting it has been able to pass on higher cotton costs to shoppers.
"The gross margin forecast is a good indicator of how their consumer is accepting price increases so far," said Walter Stackow, a portfolio manager with asset manager Manning & Napier.
Stackow said the current market turmoil could eventually hurt sales if it lasts, but said shoppers will get some relief from lower gas prices and that any shopper pullback will not be instant.
Kohl's expects gross margin in the current quarter to range from up 0.1 percentage point to down 0.1 percentage point.
Chief Executive Kevin Mansell said in a statement that profits were helped by a credit card deal with Capital One, given that bad debt expenses have fallen significantly compared to last year.
Second-quarter profit rose 16.5 percent to $303 million, or $1.09 a share, from $260 million, or 84 cents a share, a year earlier. That beat the $1.08 a share Wall Street analysts were expecting, according to Thomson Reuters I/B/E/S.
As previously reported, sales were up 3.6 percent to $4.2 billion, while same-store sales rose 1.9 percent.
(Reporting by Phil Wahba; Editing by Derek Caney, Dave Zimmerman and John Wallace)
© Thomson Reuters 2022 All rights reserved.