Jones Group one of bidders for Jimmy Choo
April 19 - Clothing maker Jones Group Inc is one of three potential buyers for upscale shoe and handbag maker Jimmy Choo, Dow Jones reported, citing people familiar with the matter.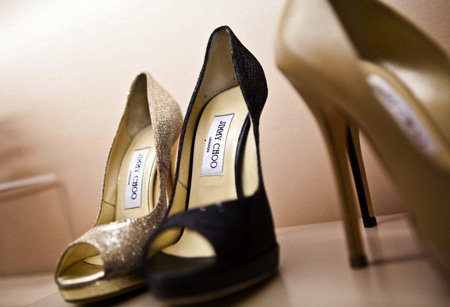 Jimmy Choo brand designer women shoes sit on display at the Jimmy Choo flagship store on Madison Avenue
A spokeswoman for Jones Group, whose brands include Nine West and Jones New York, declined to comment on the report.
Jones Chief Executive Wesley Card told Reuters in February that his company was looking to buy brands that would help extend Jones' reach, particularly into overseas markets.
"Acquisitions are an important part of our growth strategy," Card said at the time. Last year, Jones bought high-end shoemaker Stuart Weitzman.
Bahrain-based Investcorp INVB.BH and German luxury company Labelux Group have made a joint offer for Jimmy Choo, while U.S. private equity firm TPG is also in the process, according to the Dow Jones report.
Buyout firm TowerBrook Capital Partners bought Jimmy Choo in 2007 for 185 million British pounds ($302 million at the current exchange rate.) Jimmy Choo, which was founded in 1996 in London, also runs a chain of boutiques worldwide.
TowerBrook also declined to comment.
Morgan Stanley and Goldman Sachs are running the auction and bids are due in mid-May, according to Dow Jones.
Jones shares were down 0.4 percent in morning trading.
(Reporting by Phil Wahba; editing by Gunna Dickson)
© Thomson Reuters 2022 All rights reserved.