Jones Apparel sees business steadying
By Martinne Geller
NEW YORK, June 11 (Reuters) - Jones Apparel Group Inc (JNY.N) is seeing business stabilize and does not expect markdowns in the holiday shopping season to be deep as they were a year earlier, its chief executive said on Thursday 11 June.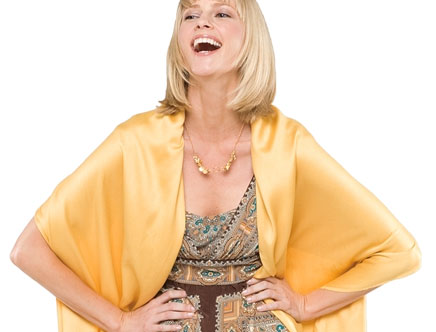 Jones New York ,of the Jones Apparel Group, spring-summer 2009
"Business is a little better than expected," CEO Wesley Card said at the Reuters Global Retail Summit in New York. "We feel like things have stabilized and steadied out, particularly in the tier we operate in, at department stores and down."
Jones Apparel is a wholesaler and retailer with brands like Jones New York, Anne Klein and Nine West. Its reach stretches up the price scale with a stake in the Rachel Roy fashion brand and down with its l.e.i. denim brand sold exclusively at Wal-Mart Stores Inc (WMT.N).
In general, the company's midpriced brands are in what Card called "the sweet spot" as consumers remain more thrifty in the recession.
Card predicted that this year's winter holiday season would feature "very well-priced items and hopefully less promotion.
"As we go through this year, there's going to be less stock," he said. "Retailers have commented that they have less merchandise being marked down."
Card also said the new midpriced line that fashion designer Rachel Roy will launch at Macy's Inc (M.N) in August will first appear in 85 stores, although he believes it has the potential to be in many more.
In April, the company said it expected 2009 revenue of $3.3 billion to $3.5 billion, with second-quarter revenue falling 5 percent to 8 percent from the year-earlier period. Card declined to update that outlook.
As Jones seeks to increase its share of the U.S. footwear market, it is introducing more products, such as a new line of casual shoes called Vintage America by Nine West. It also entered into a partnership with athletic shoe brand New Balance in July.
Card also said its new Shoe Woo stores, which sell a number of shoe brands as opposed to only one, were doing well and that the test would expand to midtown Manhattan with a store near Bloomingdale's.
While Shoe Woo currently focuses on Jones brands, which include Easy Spirit, Bandolino and Enzo Angiolini, Card said he might consider stocking other companies' shoes down the road if there are obvious gaps in the merchandise assortment.
Jones shares were up 63 cents, or 6 percent, at $11.10 in afternoon trading on the New York Stock Exchange. At Wednesday 10 June's close, the stock was up 79 percent this year, outperforming the 29 percent rise in the Standard & Poor's Apparel, Accessories and Luxury Goods Index .15GSPTEXT and 4 percent gain in the S&P 500 .SPX.
(For summit blog: blogs.reuters.com/summits/)
(For more on the Reuters Global Retail Summit, click on [nNBMPRET09])
(For the Reuters Global Luxury Summit, click on [nL1138940])
(For the Reuters U.S. back-to-school package, click on [nN05301426])
(Reporting by Martinne Geller; Editing by Lisa Von Ahn)
((Reuters Messaging: [email protected];
(646) 223-6023))
((blogs.reuters.com/shop-talk/ for Shop Talk -- Reuters' retail and consumer blog)) Keywords: RETAIL SUMMIT/JONESAPPAREL
(C) Reuters 2009. All rights reserved. Republication or redistribution ofReuters content, including by caching, framing or similar means, is expresslyprohibited without the prior written consent of Reuters. Reuters and the Reuterssphere logo are registered trademarks and trademarks of the Reuters group ofcompanies around the world.nN11301653
© Thomson Reuters 2023 All rights reserved.