Jones Apparel beats Street on leaner inventory
(Reuters) - Jones Apparel Group Inc (JNY.N) reported higher-than-expected quarterly earnings on Wednesday 28 April as lean inventory levels bolstered gross margins and consumers returned to shopping, sending shares up nearly 3 percent in premarket trading.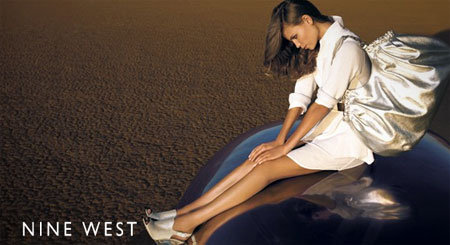 Nine West, a Jones Apparel Group brand - Photo: www.jonesapparel.com
Revenue edged 0.3 percent lower to $876.1 million, despite the company's closing of 63 stores during the quarter, as consumer spending recovered.
The recovery prompted Jones Apparel to raise its sales forecast for the full 2010 fiscal year. It now expects sales to range between $3.4 billion and $3.54 billion, compared with analyst expectations of $3.4 billion. In February it forecast 2010 revenue of $3.3 billion to $3.48 billion.
"We are encouraged by rising consumer confidence and positive retail trends," Chief Executive Wes Card said in a statement.
The clothing, shoes and accessories company, whose portfolio includes Nine West, Jones New York and Anne Klein, said net income was $39.2 million, or 45 cents per share, in the first quarter, which ended April 3, compared to $300,000 million, a year earlier.
Excluding one-time items, Jones Apparel had earnings of 47 cents per share. Analysts on average were expecting earnings of 34 cents per share on revenue of $866.1 million, according to Thomson Reuters I/B/E/S.
Jones, which also owns Enzo Angiolini and Easy Spirit, said gross margin rates had risen 3.9 percentage points during the quarter to 36.8 percent, with jeans showing marked strength.
It also said it was on track to close an additional 110 unprofitable stores by the end of 2010. It operated 877 locations at the end of the quarter.
Shares were up 62 cents in premarket trading from a closing price on Tuesday 27 April of $22.68 on the New York Stock Exchange.
(Reporting by Phil Wahba and Martinne Geller; Editing by Derek Caney, Dave Zimmerman)
© Thomson Reuters 2023 All rights reserved.