John Lewis weekly sales flat despite iPad 2 boost
May 20 - John Lewis, Britain's biggest department store chain, reported flat weekly sales on Friday, strengthening the view that consumer spending has weakened after a strong April boosted by a late Easter and royal wedding.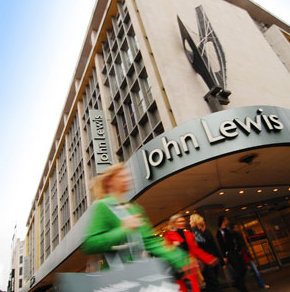 John Lewis on Oxford Street
The employee-owned business said sales edged up 0.1 percent year-on-year to 53.4 million pounds ($86.4 million) in the week ended May 14, helped by demand for Apple's new iPad 2 tablet computer.
But sales were down 1.8 percent excluding VAT sales tax, which was raised earlier this year, and John Lewis said the market was "undoubtedly challenging" as it emerges from a long period when comparisons with last year were distorted by calendar effects.
"We sold through our stocks of Apple's latest barnstormer -- the iPad 2 -- in no time," John Lewis said, reporting a 5 percent rise in electrical and home technology products.
Online sales were up 18 percent, while the chain's "click and collect" offering, which allows customers to order online and pick up purchases in store, saw a 63 percent increase.
Fashion sales, however, were down 1 percent and home-related products down 2 percent.
Despite a surge in sales around Easter and the wedding of Prince William to Kate Middleton, most retailers expect demand to remain subdued this year as shoppers struggle with rising prices and austerity prices.
John Lewis's upmarket grocery chain Waitrose reported a 10.8 percent increase in weekly sales to 101.6 million pounds, lifted by strong demand for a 10 pound meal-for-two deal.
(Reporting by Mark Potter; Editing by Hans Peters)
© Thomson Reuters 2022 All rights reserved.