John Lewis weekly dept store sales fall
By Dan Lalor
LONDON (Reuters) - Retailer John Lewis's JLP.UL latest weekly department store sales fell 4.4 percent year-on-year as good weather combined with worries about fuel shortages to keep shoppers at home, it said on Friday.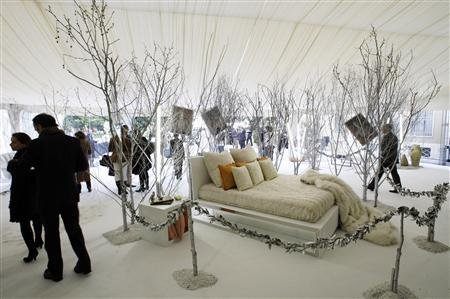 It was the fifth time in six weeks the employee-owned group, whose sales are a closely watched indicator of the retail sector, reported a fall in department store sales.
By contrast, sales at John Lewis Partnership's Waitrose supermarkets, buoyed by an opening in Buckingham and Father's Day, rose 7.3 percent in the week to June 14.
British retailers have said they are struggling as debt-laden shoppers cut back on spending amid rising food, fuel and mortgage costs, although official data for May showed the biggest monthly rise in sales since the series began in 1986.
The FTSE general retailer index .FTASX5370 has slumped 20 percent in the past six weeks since data showed a big rise in court orders for home repossessions, albeit from low levels.
The John Lewis partnership caters for more affluent shoppers, as witnessed by its acquisition this week of four sites in well-to-do London neighbourhoods, including Chiswick and Clapham, for new Waitrose stores.
Earlier this week, Waitrose was named the best high street retailer by consumer organisation Which?, with John Lewis in second place.
John Lewis also said Waitrose would sponsor Reading football club from next season for an undisclosed sum. Waitrose, whose head office is near "The Royals" stadium will supply food to the ground. "The Royals" were relegated from English football's Premier League at the end of the 2007-08 season.
TOUGH COMPARATIVES
"Last week was always going to be a stiff target with one of our best weeks from last year against us, so it was no surprise to be 4 percent down," John Lewis said of its weekly department store sales.
"Saturday in particular was a challenge with a combination of fine weather and concern about the fuel drivers' strike combining to drive down footfall in the regional shopping centre branches," John Lewis said on its website.
Fashion, with a 3.0 percent rise, was the only department to see higher sales, while homewares was down 8.9 percent and electricals and home technology fell 9.7 percent.
John Lewis said a warm and sunny start to the week drove the rise in sales at Waitrose, within which the first full week's sales from newly opened Buckingham store were excellent.
It gave the following sales figures for the week to June 14 compared with a year earlier:
Week to Jun 14 20 wks to Jun 14
Department stores -4.4 pct 1.3 pct
Waitrose food group 7.3 pct 6.2 pct
Total sales 2.8 pct 4.3 pct
(Editing by Louise Ireland)
© Thomson Reuters 2022 All rights reserved.