John Lewis' Waitrose sales soar as Britons barbecue
April 15 - Sales at John Lewis' Waitrose supermarket chain soared last week as the sunny weekend weather prompted Britons to dust off their barbecues from winter storage. The employee-owned retailer said Waitrose's sales increased 24.5 percent year-on-year to 99.6 million pounds ($162.4 million) in the week to April 9.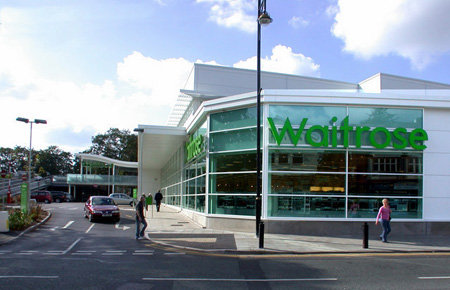 John Lewis' Waitrose in Cheadle Hulme, England (image by Geoff Welding, under the Creative Commons Attribution-ShareAlike 2.0 license)
"Even taking into account the favourable impact of the timing of Easter, a very strong performance," said retail director Tony Solomons.
He said sales of the barbecue range of products jumped 566 percent week-on-week, while sales of children's ice lollies were up 125 percent.
Sales at John Lewis' department stores increased 7.3 percent to 52.3 million pounds
"We benefited from the extra day of trade against Easter Sunday last year, and the week finished with good growth on Saturday," said head of buying Sarah Morris.
John Lewis has long been outperforming the broader UK retail sector.
A raft of British retailers have issued profit warnings over the last month as the macro outlook has darkened, with consumers worried about government job and welfare cuts, muted wage growth, a weak housing market, and the prospect of higher interest rates.
(Reporting by James Davey, editing by Rhys Jones)
© Thomson Reuters 2022 All rights reserved.