John Lewis sales rise as rain keeps falling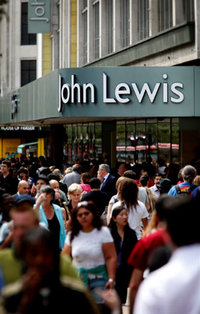 Photo: John Lewis
LONDON - Britain's biggest department store chain John Lewis posted another double-digit rise in sales last week as the nation's wet weather proved favourable for its key household goods business.
The employee-owned retailer said on Friday its sales increased 18.3 percent year-on-year to 64.3 million pounds (64 million pounds) in the week to May 5.
April was Britain's wettest since records began and the poor weather has continued into May.
"The weather continues to play a key role in what's selling and what's not, but overall another strong week at John Lewis," said the firm.
"It seems that the wet launch into spring has played out in our favour with all three directorates trading ahead of budget and last year."
John Lewis said homewares sales increased 14.1 percent, while sales in the electricals and home technology division were up 47.2 percent, boosted by demand for notebooks and Apple's new iPad. Fashion sales growth was more subdued at 4.6 percent.
The firm has been outperforming the wider market as its generally more affluent customers have been less impacted by the economic downturn.
"John Lewis seem to be living on a different planet from the rest of the High Street at present, but this week (to May 12) will be a bigger test, with a Bank Holiday and a sunny Saturday likely to sap footfall," said independent retail analyst Nick Bubb.
Many UK retailers are struggling as shoppers grapple with higher prices, muted wage growth and government austerity measures, and worry about job security, shaky housing markets and fallout from the euro zone debt crisis.
A survey on Wednesday showed British retail sales posted their biggest fall in more than a year last month, while cards and gifts chain Clinton Cards entered administration, a form of protection from creditors.
John Lewis also owns upmarket supermarket chain Waitrose. Here week to May 5 sales rose 6.8 percent to 110.1 million pounds.
Waitrose said customers had responded positively to the extension of its price guarantee on branded grocery products with industry leader Tesco.
© Thomson Reuters 2022 All rights reserved.