John Lewis gets Mother's Day, weather fillip
April 8 - Sales at British retailer John Lewis were higher last week as Mother's Day, warmer weather and promotions drove a pick up in trade in a generally subdued retail environment.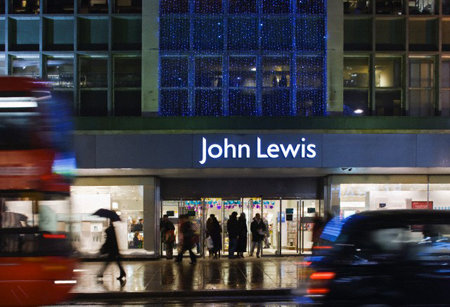 John Lewis on Oxford Street on a wet winter's evening
"The combination of Mother's Day, price matching competitor activity and better spring weather gave sales a real boost with the week closing at up 12 percent on the previous week and up 3.1 percent on last year, the highest sterling sales of the half to date," the firm said on Friday.
The employee-owned group, which has long outperformed the broader retail sector, said department store sales were 60.9 million pounds ($99.23 million) in the week to April 2, up from 59.9 million pounds in the same week last year.
John Lewis, Britain's biggest department store group, said weekly sales were up 1.4 percent excluding the rise in VAT sales tax.
British retailers have issued a raft of profit warnings over the last month as the macro outlook has darkened.
Cash strapped consumers look increasingly unwilling to spend as higher inflation, fuelled by January's rise in VAT and rising oil, utility and food prices, bite into real incomes.
They are also worried about job losses and cuts to welfare benefits, as well as the prospect of higher interest rates.
John Lewis also runs upmarket grocery chain Waitrose. Sales here fell 4.9 percent, with the figure distorted by the fact that the same week last year was the immediate run-up to Easter.
(Reporting by James Davey, editing by Matthew Scuffham)
© Thomson Reuters 2022 All rights reserved.