Jean-Charles de Castelbajac put into receivership
Jean-Charles de Castelbajac is going through difficult times. After its former owner Marchpole collapsed into administrative receivership in 2008, the Parisian brand now finds itself in a similar situation after also entering into receivership on May 3rd.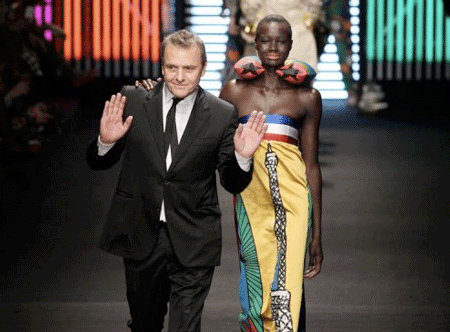 Jean-Charles de Castelbajac at his catwalkshow in 2010 (Photo: AFP)
Coincidence or not, some newspapers were already talking last Friday about Jean-Charles de Castelbajac's wish to regain a stake in the company that bears his name, although no mention was made of the observation period neither of the appointment of an administrative receiver. In 2009, the last year that accounts were deposited at the registry, its sales revenue was nearly 4 million euros, with an operating deficit of 2.4 million but a net income of 400,000 euros.
Today, the designer still has 2 boutiques in Paris, with the one on Saint-Pères street for its main collection and the other on Vauvilliers street for its JCDC line. The brand's London flagship was closed some time in 2010, and before that its store in Lyon also had the same fate. This could explain why the last earnings report was positive.
The Sixth Swedish National Pension Fund owns 99% of Jean-Charles de Castelbajac, while Swedish firm Atlas owns the remaining 1%. The French company has confirmed that they are currently in talks to allow the entry of a new shareholder in the business, along with the designer. Discussions could go until mid June.
This goes to show how having the status of a designer these days is no longer a guarantee of lasting success. We just saw the same thing happen to Jean Paul Gaultier, which was recently bought out by Spanish group Puig and probably owes its rescue to the success of its perfumes.
Anaïs Lerévérend et Bruno Joly
Copyright © 2023 FashionNetwork.com All rights reserved.