JC Penney stands by pricing and other '09 plans
NEW YORK, April 22 (Reuters) - J.C. Penney Co Inc (JCP.N) needs to have clear and affordable prices for fashion-forward items to entice shoppers this year, Chief Executive Myron "Mike" Ullman said on Wednesday 22 April.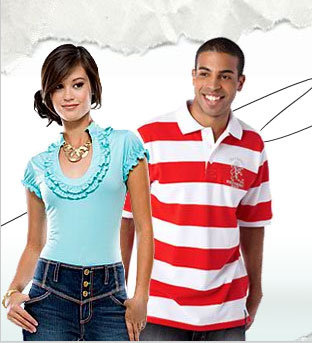 JC Penney Teen - Spring 2009
The U.S. department store chain expects to open 17 new stores in 2009 and spend $600 million on capital expenditures, Ullman said on Wednesday at J.C. Penney's annual analyst meeting in New York.
It had discussed those plans earlier this year when it reported its results for the fourth quarter of 2008.
Earlier this month, the Plano, Texas retailer surprised Wall Street and investors with a smaller-than-expected 7.2 percent drop in March sales at stores open at least one year.
For 2009, Ullman said the company expects same-store sales to decline about 10 percent.
Penney is one of several retailers that have faced steep declines in sales over the past year as shoppers back off from spending on anything that is not essential in the recession. Such consumer thrift has resulted in the department store sector taking a bad hit in recent months.
Penney itself does not see its fortunes turning around meaningfully in 2009. Still, the company has said it will focus on unique brands such as nicole by Nicole Miller and Fabulosity by Kimora Lee Simmons at affordable prices to woo shoppers to spend in its stores.
Penney shares rose 2.6 percent to $26.73 in morning trade.
Penney moved its annual analyst meeting from Plano, Texas, to New York this year, citing the recession's impact on many firms' travel budgets.
(Reporting by Aarthi Sivaraman; additional reporting by Gina Keating in Los Angeles; Editing Bernard Orr)
© Thomson Reuters 2022 All rights reserved.