Jaeger sales holding firm, online booming
LONDON (Reuters) - Sales at British luxury fashion brand Jaeger have grown strongly, shrugging off recent turmoil in financial markets, helped by a booming online business which is set to double in size over three years.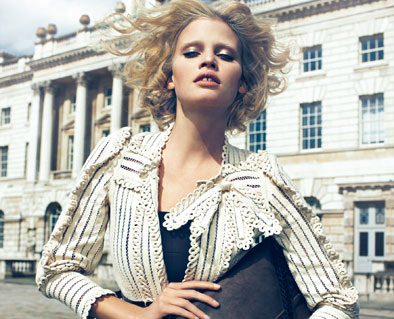 Jaeger womenswear - Photo: www.jaeger.co.uk
Chief Executive Belinda Earl told the Reuters Global Luxury Summit that Internet sales were set to grew to 10 percent of total revenues by 2013, fueled by a revamped website linked to social networking portals, and surging demand from overseas.
She also saw opportunities to expand the 126-year-old Jaeger brand into more accessories and areas, such as childrenswear, as well as new markets, such as Russia.
Demand for luxury goods has bounced back from a deep recession. But analysts fear the debt crisis in Greece, and ensuing plunge in equity markets, could hit consumers spending again.
Last month Jaeger reported a 12 percent rise in sales for the first few weeks of its financial year, starting March 1, and Earl said that trend had continued despite economic uncertainty.
"We've not read anything into the last two or three weeks. In fact our trading has maintained," she said, noting particularly strong demand in Hong Kong and online.
Jaeger recently started delivering to 29 countries from its website, and Earl said that had had a dramatic effect.
"We've seen a quantum increase in international sales in the last month ... and I think that will only grow," she said, adding the online business was likely to overtake Jaeger's biggest store in terms of annual sales in about two years.
Luxury goods firms have been slower to embrace the Internet than other retailers, concerned it would not be able to offer the high-end service their customers expect.
However, Earl said the technology had now moved far beyond simply pasting pictures onto a screen and brands could harness the Internet to strengthen their credentials with consumers.
Bigger rival Burberry (BRBY.L) said last week it had over one million followers on social networking site Facebook, and that its own social media site artofthetrench.com had received over seven million page views since its launch in November.
Earl said Jaeger's new website this autumn would offer similar social networking capabilities, as well as a separate section for its new Boutique range.
EXPANSION
A former head of department stores group Debenhams (DEB.L), Earl is credited with taking Jaeger from English county shows to international catwalks, as well as broadening the brand into new product areas, such as homewares, sunglasses and fragrance.
Earl said the brand, which is majority-owned by Chairman Harold Tillman, would not be immune to any fresh downturn, but that its improvements in design and diversification meant it was well placed to cope.
The immediate focus was on this autumn's launch of Boutique, a new, slightly cheaper range aimed at younger women.
However, the firm would continue to look at new product areas, Earl said, and in particular believes it can build sales of accessories to around 20 percent of the group total over the next two years, up from about 12 percent currently.
It would also look at launching a childrenswear range in the coming years, she added.
International expansion will continue too.
Jaeger announced a deal last month to enter the United States in Nordstrom department stores, as well as plans to expand further in Britain and the Middle East.
Earl said the group had longer-term ambitions to grow in Russia, and had struck a partnership deal with local luxury goods retailer Jamilco which would aim to open a store in around two years time and up to ten over the next 5-10 years.
Jaeger was also looking for a new partner in Japan, after a licensing deal there expired last year, and for possible partners in mainland China, but had no plans to enter the Indian market for the time being, she said.
(Editing by Louise Heavens)
© Thomson Reuters 2023 All rights reserved.